NEW YORK CITY – March 20, 2007 – A survey of New York City public high school students shows that teens were less likely to drink or use other drugs in 2005 than in 2001. One in three youth (35%) in New York City reported drinking alcohol in the past month in 2005, compared to 41% in 2001. Additionally, in 2005 approximately 12% of public high school students reported recently using marijuana, down by about a third since 2001. The results are based on the 2005 NYC Youth Risk Behavior Survey, a survey conducted every two years by the Department of Health and Mental Hygiene (DOHMH) and Department of Education (DOE). While this decline is good news, too many teens are using drugs and alcohol, leading to avoidable hospitalizations and deaths. A report on the findings is available at http://www.nyc.gov/html/doh/downloads/pdf/survey/survey-2007subsAbuse.pdf.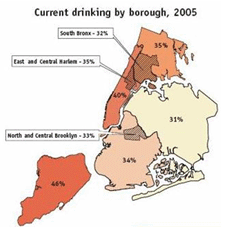 "New York City kids are getting smarter," said Health Commissioner Dr. Thomas R. Frieden. "There are a third fewer youth smoking today than in 2001; this is important because teens who smoke are more than twice as likely to try alcohol and other drugs. Parents should set clear rules against drinking, smoking, and using drugs, and talk honestly to their children about the dangers of substance use. If parents suspect their child is drinking or using drugs, there are counseling resources available through doctors and schools to help address the problem."
"Alcohol and other drug use can impair judgment and lead to poor decisions, such as engaging in unprotected sex," Dr. Frieden said. "This can lead to unintended pregnancies and sexually transmitted infections."
"It is great news that fewer public high school students today drink or use drugs," said Chancellor Klein. "Students, parents, and families should know that their schools are a safe and appropriate place to ask questions about drugs and alcohol, and to get information, resources, and support for themselves or loved ones who may need assistance."
Other Key Findings
NYC youth binge drink half as much as the national average (14% vs. 26%).
White youth report more binge drinking in the past month (28%) than black (8%) or Hispanic (18%) youth.
Youth in NYC are less likely than youth nationwide to use marijuana (28% vs. 38%), inhalants (9% vs. 12%), ecstasy (4% vs. 6%), cocaine (4% vs. 8%), or methamphetamines (2% vs. 6%).
Similar to the national average, about one in four students were younger than 13 when they tried drinking for the first time.
Report Recommendations
Schools continue to strictly enforce no-substance use policies and promote anti-substance use messages
Enforcement of policies and promotion of anti-substance use messages during the school day and in after-school activities is critical for students in all grades, teachers and other staff.
Educators are advised to target evidence-based substance abuse prevention programs and messages to groups with the highest usage rates, as well as areas with the largest youth substance users.
Schools can help smokers, and students, parents, and staff who use other substances, to quit – including referring students to mental health providers when appropriate.
Parents Make a Difference
Parents can take an active, healthy interest in their children. Ask them where they are, what they are doing, and whom they are with.
Parents can talk honestly about the downside of substance use: car crashes and injuries; legal problems; money problems; bad grades; losing out on sports, jobs, and college; feeling bad; and looking bad.
Parents are advised to set clear house rules against alcohol, tobacco, and other drug use. A "zero-tolerance" policy is easiest to enforce.
Parents are advised to set a good example by establishing a smoke-free home; if you drink alcohol, drink only in moderation, and don't use drugs even if you think your kids don't know (they usually do).
Parents can also help children find ways to avoid or get out of situations where they feel pushed to drink or use drugs.
Tips for Parents who Suspect a Young Person is Using Drugs or Alcohol
Talk honestly with your teen and share your concern, but be careful about how you react.
Be calm, even if you're angry or upset.
Ask direct questions about alcohol and drugs. If you have evidence, say so.
Sometimes a serious discussion is enough but, if not, consider getting advice from your family doctor or a counselor.

Youth Risk Behavior Survey
This information is based on results of the 2005 New York City Youth Risk Behavior Survey, a self-administered, anonymous questionnaire adapted for New York City from protocols developed by the Centers for Disease Control and Prevention. Nationally, the survey is conducted in both public and private schools. In New York City, the survey has been conducted in public schools every two years since 1997. From 1997 to 2001 the survey was conducted by DOE; since 2003, it has been conducted jointly by DOHMH and DOE.
For more information on tobacco cessation and how to get help stop using drugs, alcohol or smoking, call 3-1-1 or visit nyc.gov/health.

###