NEW YORK CITY – March 19, 2007 – The number of calls to New York City's Poison Control Center (PCC) increased to 67,000 in 2006, a slight increase from 2005, the Health Department announced today at the beginning of National Poison Prevention Week. Since 2004, there has been a steady increase in the number of calls about poisonings and potential exposure risks. Nearly half of all calls were from or on behalf of people under the age of 20, but only 3% of calls received are from or on behalf of seniors over the age of 60. The Health Department urged all New Yorkers to take steps to prevent unintended poisonings in the home by storing prescription medications and household products away from young children, installing carbon monoxide detectors, and discarding all expired medications.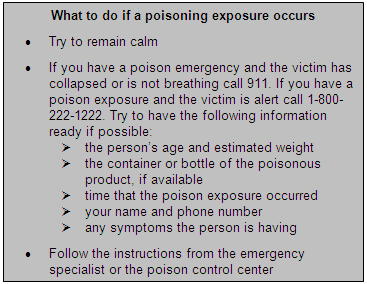 "Children are the most vulnerable to unintended poisonings, but these poisonings can be prevented," said Health Commissioner Dr. Thomas R. Frieden. "Even common household products can be toxic and potentially fatal if misused, mixed or left untreated. Keep potentially hazardous materials out of the reach of children."

Increasing Awareness about PCC
From May to December 2006, the Health Department conducted a pilot program in Flushing and Corona, Queens – neighborhoods with lower call rates – to raise awareness about preventing unintended poisonings and to target caregivers of children under the age of 6. Working with local community providers, the Health Department disseminated poison prevention materials through pharmacists and pediatricians in each community. The Health Department also worked with 60 local businesses to post poison prevention information in English, Spanish, and Chinese.
"The Poison Center is not only for emergencies," said Dr. Robert Hoffman, Director of the City's Poison Control Center. "Adults and seniors who cannot see or understand the caution labels on medication can call us for more information, because taking incorrect medications or products can put you at high risk of poisoning. It is critical that the warnings and expiration dates on prescriptions and household products are honored, and hazardous materials are properly discarded."
Warning signs of a possible poisoning may include: an open nearby container, strange odors, burns around the mouth, profuse sweating, drooling, upset stomach or nausea, convulsions, drowsiness, dizziness, and/or unconsciousness. Common household products such as cleaners and detergents, mouthwash, and plants can be poisonous. If you are unsure whether a particular item is poisonous, contact the City's Poison Control Center by calling 1-800-222-1222. Registered pharmacists and nurses certified in poison information are available to provide real-time treatment advice.
"In the event of an unintended poisoning, try to remain calm," said Dr. Hoffman. "If the victim is unconscious and not breathing, call 911. If the victim is coherent and alert, contact the New York City Poison Control Center at 1-800-222-1222. Gather the container or bottle of the poisonous material, if possible, and relay that information to the poison specialist so they can recommend immediate treatment for the victim as the paramedics are in transport. Some symptoms may take hours to develop, but do not take chances. If you suspect that someone has been poisoned, seek medical attention immediately."
The New York City Poison Control Center is available 24 hours a day, 365 days a year to assist with emergencies. Information is provided in English and interpretation services are available in 150 other languages. All calls are free and confidential. Prevention materials are available, free of charge, in English, Spanish, Chinese, Creole, Russian, and Bengali at 1-800-222-1222 or online at http://www.nyc.gov/html/doh/html/poison/poison.shtml.
Prevent Unintended Poisonings…
…In the house
Keep all harmful products out of reach of children and pets; use cabinet safety locks.
Never store food products with non-food items.
Store products in original containers. Do not store cleaning products in a food or drink container, even if you re-label it.
Use child-resistant containers whenever possible. Be sure they are closed properly.
Keep plants up high and out of reach. Some plants are poisonous.
Teach children to always ask an adult before eating, drinking or touching anything.
Install carbon monoxide detectors in sleeping areas of the home; replace the batteries twice a year.
…From your medicines
Throw away expired medicine.
Wear your glasses and keep the lights on when taking medicine.
Never call medicine candy. Children should understand the difference.
Read the label and follow directions for medicines, and never share prescription drugs.
…In the garage, or around the house:
Turn on the fan and open windows when using chemical products.
Wear gloves, long pants, long sleeves, socks, shoes when spraying pesticides and other chemicals.
Never mix household and chemical products together; this may create a poisonous gas.
Do not burn fuels or charcoal in confined spaces (e.g., garages, tents, or poorly ventilated rooms).
Do NOT warm-up a car in a garage, even if the door is open. Fumes can become lethal very rapidly.
Make sure your vehicles are tuned up; check and repair exhaust system leaks.
Do not use gas powered generators in your garage or home.

###