NEW YORK CITY - March 15, 2007 – The New York City Health and Hospitals Corporation (HHC) and the New York City Department of Health and Mental Hygiene (DOHMH) today announced the launch of a public health campaign featuring Wesley Autrey, who came to the rescue of a fellow New Yorker who fell into the subway tracks last January, to get New Yorkers 50 and older screened for colon cancer. The city-wide Colon Cancer Awareness Campaign will feature Autrey, who just turned 51 and will get his first colonoscopy at HHC's Harlem Hospital later this month. It will also feature radio spots, print ads, subway ads and marketing materials in English and Spanish, encouraging New Yorkers over the age of 50 to get no-cost or low-cost colonoscopies at HHC public hospitals and other participating facilities.
"I'm an average New Yorker over the age of 50 who could be at risk of colon cancer," said Autrey. "That's why I'm joining this campaign. I'm very happy to be able help get this message out about colon cancer to maybe help save more lives – and I don't have to jump onto the subway tracks to do it!"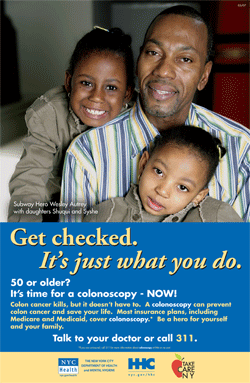 "We've convinced many New Yorkers who are 50 and over to get a colonoscopy, but our goal is to persuade even more," said HHC President Alan D. Aviles. "And the reason is simple. By increasing our colon screenings dramatically, we have found more early-stage cancers that can be treated effectively. This year, with additional funding from the City Health Department, we will reach even more New Yorkers, especially those at high risk."
"Colon cancer is one of the most preventable cancers," said Dr. Thomas Frieden, the New York City Health Commissioner. "Studies suggest that periodic colonoscopies could prevent between 76% and 90% of all cases. Yet colon cancer still kills some 1,400 New Yorkers every year. We have seen remarkable progress in recent years – colon cancer death rates are falling in New York City, and we're closing racial and ethnic disparities in screening rates. But we must do more to promote colonoscopy."
Nearly 71,000 New Yorkers have been tested at HHC's 11 public hospitals during the past four years. Here are some indicators of how screening rates improved between fiscal-year 2003 and fiscal-year 2006:
The number of people tested in public hospitals increased by 86% – from 11,829 to 21,969.
The number of screening procedures tripled – from 4,585 to 13,714.
The number of tests that identified patients with pre-cancerous polyps increased by nearly 100% – from 1,746 to 3,470.
According to a report issued by the American Cancer Society this month, 64.7 percent of all colon cancers in New York City are found in later stages, when treatment options are more limited and survival rates are lower. The Health Department also found that only half of New Yorkers age 50 and older have been tested, leaving nearly a million more at greater risk for undetected colon cancer.
"We want to test every New Yorker age 50 and over," said Dr. Glendon Henry, Medical Director of Harlem Hospital Center."Too many people in that age group aren't getting colonoscopies. We have to turn that around in order to detect the cancer in its early stages. By adding bilingual patient navigators, making our colonoscopy exam suites more efficient and implementing a direct testing referral system, we'll be able save more lives."
Colonoscopy can actually prevent cancer by finding pre-cancerous lesions that can be removed before the cancer develops and spreads beyond the colon. Nationwide, colon cancer is the second leading cause of cancer death in men and women.
Ironically, people in higher risk groups for colon cancer are less likely to get a colon cancer screening. These include: older New Yorkers, smokers and people who do not exercise regularly. Black men have the highest overall death rate from colon cancer in the City. At 31 deaths per 100,000 persons, Black men are 35% more likely than White men, 24% more likely than Hispanic men and nearly 121% more likely than Asian men to die from colon cancer. While women have a lower colon cancer death rate, Black women similarly have the highest death rate (20 per 100,000) compared with White women (15/100,000), Hispanic women (17/100,000) and Asian women (15/100,000).
Free or low-cost colon cancer screenings are being provided at many HHC facilities and partnering hospitals in every borough. The screenings are available to all New Yorkers regardless of immigration status or ability to pay. New Yorkers can dial 311 or visit nyc.gov/hhc for more information or to make an appointment.
Learn the Facts about Colon Cancer
###
The Health and Hospitals Corporation (HHC), the largest municipal hospital and health care system in the country, is a $4.9 billion public benefit corporation that serves 1.3 million New Yorkers and nearly 400,000 who are uninsured. HHC provides medical, mental health and substance abuse services through its 11 acute care hospitals, four skilled nursing facilities, six large diagnostic and treatment centers and more than 80 community based clinics. For more information about HHC, visit www.nyc.gov/hhc.