NEW YORK CITY - January 30, 2007 - More than 100,000 New York City adults are at high risk of heart attack, blindness, amputations, and other serious complications because of very poorly controlled diabetes, according to unprecedented survey data released today by the New York City Health Department. The new survey also shows that 12.5% of the City's adults have diabetes and that about one third of them - 207,000 people - do not know it.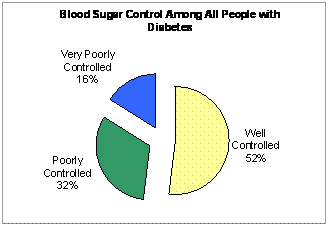 The findings, from New York City's first-ever Health and Nutrition Examination Survey (NYC HANES), provide the clearest picture yet of the City's growing diabetes epidemic. The new investigation, modeled after the Centers for Disease Control and Prevention's National Health and Nutrition Examination Survey (NHANES), used a one-time screening test to estimate diabetes prevalence. The Health Department assessed a variety of health issues by visiting households to gather information, and conducted face-to-face interviews, physical exams, and laboratory tests at a health center. Additional findings will be released in the coming months.
The Health Department's past diabetes estimates have come from a telephone survey that relies on self-reported information. NYC HANES confirmed phone survey estimates that about 9% of adults have been diagnosed with diabetes, slightly higher than the 7.3% of adults who have diagnosed diabetes nationwide. But laboratory results revealed that an additional 3.8% of adults have undiagnosed diabetes, compared to 3% nationally, bringing the total to 12.5% of New York City adults. Another 23.5% of adults have higher-than-normal fasting blood sugar levels, a national definition of pre-diabetes, meaning that they are at risk of developing diabetes in the future.
Diabetes rates have doubled in the past 10 years in New York City. This drastic jump in diabetes has closely mirrored the increasing obesity rates. "New York City is getting healthier by almost all measures, but the twin epidemics of obesity and diabetes are getting worse by the year," said Health Commissioner Dr. Thomas R. Frieden. "We're learning more about diabetes to help reverse the epidemic. We know that physical activity, a healthy diet and modest weight loss can help. If you have diabetes, getting your blood pressure, cholesterol, and blood sugar under control can make the difference between life and death."
Managing Diabetes
Although diabetes is a serious disease, it can be controlled. Keeping blood sugar in check through diet, physical activity, and medications can prevent complications for the nearly 700,000 New Yorkers who already have diabetes.
An average blood sugar level, or A1C level, of less than 7 is considered in control. A1C levels between 7 and 9 reflect moderately poor control. In contrast, an A1C level greater than 9 indicates very poorly controlled blood sugar, and about 16% of New Yorkers have levels that high. These 105,000 individuals - some diagnosed, some not - are at very high risk of heart attack, stroke, kidney failure, blindness, and amputations. Among adults with diagnosed diabetes, 19% are very poorly controlled.
Findings from this study suggest that poor diabetes control is common even among people with access to health care. Of New Yorkers with diagnosed diabetes that is uncontrolled, 94% have some sort of health insurance.
Race, Ethnicity, and Diabetes
Asian New Yorkers have the highest rate of diabetes of all racial and ethnic groups. Nearly one in six Asian New Yorkers (16%) has diabetes. The prevalence is 14.3% among black New Yorkers, 12.3% among Hispanics and 10.8% among whites.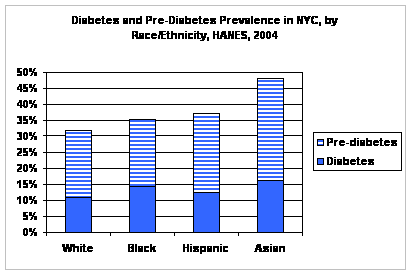 Asians are also more likely to have pre-diabetes. Nearly one in three Asian New Yorkers (32%) has pre-diabetes, compared to 25% of Hispanics and 21% of whites and blacks. Nearly half of all Asian New Yorkers have either diabetes or pre-diabetes.
Tackling the Diabetes Epidemic
The Health Department has undertaken several efforts to prevent and control diabetes in New York City.
The A1C Registry provides the Department with information about the blood sugar control among people with diabetes. The Department works with the clinical community to help improve quality of care and health outcomes.



The Gestational Diabetes Initiative provides education and resources for women who develop diabetes during pregnancy, a condition known as gestational diabetes. Women who have gestational diabetes - about 400 per month in New York City - are more likely to develop diabetes later in life, and their children are more susceptible as well.



The Department's Primary Care Information Project is working to improve health outcomes through expanded use of electronic health records in primary-care practices that serve low-income, at-risk New Yorkers. These systems will help doctors prevent and treat chronic illnesses, including diabetes, and help patients get consistent, high quality care.



The Diabetes Public Health Detailing Campaign, completed in 2006, engaged more than 5,000 primary health care providers citywide to improve care and treatment of people with diabetes.



The Diabetes Quality Improvement Collaborative works with clinics and hospitals in the City's highest-risk neighborhoods to improve care for people with diabetes.



The Department also has programs that promote physical activity as part of a healthy lifestyle. SPARK is a training initiative for daycare and school staff to incorporate physical activity into education. Shape Up New York is a free family fitness program offered at parks, community centers and housing sites around the City.
NYC HANES is the country's first community-level health examination survey. Approximately 2,000 randomly selected New Yorkers from 144 neighborhoods in all five boroughs participated in HANES, which began in June 2004. By participating, many New Yorkers discovered they had previously undiagnosed health conditions. Participants received detailed information about their health, along with referrals to care and resources.
The national HANES survey, conducted periodically for more than 35 years, is a cornerstone of health information for Americans. It has led to key improvements in health care over the decades. Likewise, comprehensive information from NYC HANES will inform New York City's resource decisions and shape programs to improve public health.
For more information on NYC HANES, please visit http://www.nyc.gov/html/doh/html/hanes/hanes.shtml. Information on the national HANES is available at www.cdc.gov/nchs/nhanes.htm.
To learn more about diabetes prevention and control, please see http://www.nyc.gov/html/doh/downloads/pdf/public/dohmhnews5-04.pdf