NEW YORK CITY - January 18, 2007 – The Health Department is offering free rabies vaccinations for all Staten Island cats, starting this Saturday, January 20, as part of an effort to prevent the spread of rabies to people and pets following an increase in animal rabies. Thirty-five Staten Island animals, mostly raccoons, tested positive for rabies in 2006, and three raccoons have already tested positive in 2007. From 1998 until 2006, only one rabid raccoon was identified there.
During this six-month campaign, rabies shots will be offered for cats at no charge at the Staten Island Animal Care and Control Shelter, and at a mobile van at various locations on the Island. The Shelter, located at 3139 Veterans Road West and Arthur Kill Road, will be open for shots Wednesdays from 11 a.m. to 7 p.m. and Saturdays from 9 a.m. to 5 p.m. Residents can call 311 to learn more about rabies or to find out where the mobile vaccination van will be located.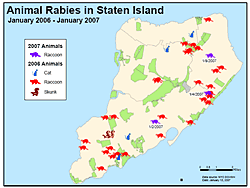 The campaign is focusing on cats because four of the animals that tested positive for rabies in 2006 were kittens, and about a dozen people had to be given preventive rabies shots because of contact with these kittens. Rabies affects the nervous system and is almost always fatal if not treated soon after exposure. There has not been a case of human rabies in New York City in more than 50 years.
"Getting pets vaccinated is the most important thing Staten Islanders can do to protect themselves and their pets against rabies," said Health Commissioner Dr. Thomas R. Frieden. "Rabies vaccination is also required by law. We hope that all of the Island's cat owners will take their animals for a free rabies shot."
The Health Department is also intensifying outreach to Staten Islanders through local schools, hospitals, businesses, veterinarians and community organizations. Staten Islanders should take these actions now:
Get your cat or dog vaccinated for rabies. It's the law.

Check with your vet to see if your pet is up-to-date with vaccinations. Pets need a rabies booster shot every one to three years.
Call 311 or visit nyc.gov/rabies for information on free rabies shots.
Always keep cats, even vaccinated cats, indoors and watch your dog when it is outdoors. Cats that roam could come into contact with rabid animals, get infected, and then expose you.

Stay away from wild or stray animals. Keep children and pets away from them too.

Never approach a wild, stray, sick, or injured animal, no matter how helpless it looks. Even stray cats can be dangerous.
Raccoons, skunks, bats, and stray cats are more likely than other animals to have rabies. Be careful around them—especially if they appear sick or behave strangely. For example:

Normally tame animals, like cats, acting too aggressive or wild animals acting too friendly.
Difficulty walking around.
Night animals like raccoons walking around during the day.

Call 311 and ask for Animal Care and Control to find out what to do.
Keep garbage in tight containers to avoid attracting animals.

If you are bitten by an animal, wash the wound, consult a doctor, and call 311 or Poison Control to report the bite.

First, wash the wound with soap and water IMMEDIATELY.
Talk to a doctor right away to see if you need a tetanus shot or a rabies evaluation. If you don't have a regular doctor, go to a hospital emergency room.
Call 311 to report the bite. After business hours, call Poison Control at 212-POI-SONS (212-764-7667).
For more information on rabies or the rabies vaccination campaign, please call 311 or visit http://www.nyc.gov/html/doh/html/cd/cdrab.shtml.
###