NEW YORK CITY – December 19, 2006 – The New York City Health Department today reminded all New Yorkers to get their annual flu shot before the holidays so they are protected for the peak of flu season. People 50 and older, young children, and the chronically ill – who are most likely to get seriously ill or die if they get influenza – should get their flu shot as soon as possible.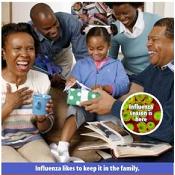 The Health Department recently launched a poster campaign in English and Spanish reminding New Yorkers that the flu spreads easily and, for some people, can be deadly.
"Protect yourself and your loved ones from the flu this year by getting a flu shot now," said Health Commissioner Dr. Thomas R. Frieden. "Spending time together is part of the holiday season, but with increased travel and exposure to young children, the risk of getting or spreading the flu increases. Influenza is a serious virus that can trigger life-threatening illness for some people. Flu season doesn't usually peak until February, so get your flu shot now. There is plenty of vaccine and you need this year's shot to protect against this year's flu."
"Stay home if you have a fever and cough," added Dr. Frieden. "Covering coughs and sneezes and washing your hands can also prevent the spread of germs."
Who Should Get a Flu Shot
The flu vaccine can protect all New Yorkers from getting the flu, but are especially important for the following people:
People age 50 and older, especially those 65 and older
Pregnant women
Children age 6 months to age five
Residents of nursing homes and other long-term care facilities
Persons age 5 – 49 years with long-term health problems such as: diabetes; lung disease (including asthma); heart disease; kidney disease; sickle cell anemia; compromised immune systems (including people with HIV/AIDS, and those being treated for cancer or taking high-dose steroids); conditions that can cause breathing problems (such as cognitive dysfunction, spinal cord injuries, seizure disorders, or other neuromuscular disorders); youth aged 5 to 18 years on long-term aspirin therapy
Caregivers and household members of infants younger than 6 months (babies this age can get the flu but are too young for a flu shot)
Caregivers and household members of people listed above
All health care workers
Influenza is a serious respiratory illness caused by a virus. Symptoms include sore throat, fever, and body aches. Influenza is much more severe than a cold, appearing suddenly and lasting a week or longer. As last year's third leading cause of death, influenza and pneumonia (a common complication of influenza) caused more than 3,000 deaths in New York City. Approximately 85% of deaths caused by influenza were among people aged 65 and older. For information on where to get a free or no-cost flu shot, call 3-1-1 or visit nyc.gov/health/flu.
Doctors who need to order flu vaccine should contact the Health Department, or can order online at nyc.gov/health/flu.
###