NEW YORK CITY – December 7, 2006 – Fresh fruits and vegetables hit the shelves in dozens of bodegas in East Harlem and the South Bronx this week as part the Healthy Bodegas Initiative. The campaign –"Move to Fruits and Vegetables"– is part of an expansion of this Initiative and a broader citywide effort, announced by Mayor Bloomberg last month, to increase access to healthy foods in low-income neighborhoods. The Health Department is hosting community kick-off events tomorrow, Friday, December 8th, in Manhattan and in the Bronx to raise awareness about the campaign and offer free samples of fruits and vegetables to people in the neighborhood (see below for details).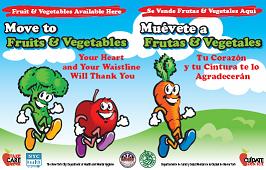 For this campaign, the Health Department worked with the New York State Department of Agriculture and Markets and the Bodega Association of the United States to bring New York State produce to New York City bodegas. Starting this week, about 60 bodegas will receive a free shipment of fresh, ready-to-eat local carrots and apples (50 packages of each). Participating bodegas will offer a "buy one get one free" discount to customers (each pack costs 50 cents).The same pre-packaged apples were very popular when they were added to New York City public school meals in 2005. If bodega owners want to continue carrying the snacks, they will be able to re-order from the distributor.
Bodegas will also receive a toolkit that contains promotional posters and postcards in English and Spanish, decals, and display containers for the snack packages. The Health Department will conduct outreach and education in local schools, daycares, and Women Infants and Children (WIC) Centers to raise awareness about the campaign and promote healthy eating. The Department will also work to expand the program to other neighborhoods and more bodegas in the coming months.
Access to Healthy Food in East Harlem
A recent food-access survey in East and Central Harlem found that bodegas are the areas' most common food stores. In these neighborhoods, about two out of three food stores are bodegas, and healthy food choices are often unavailable. Only one in four bodegas in East Harlem sells apples, oranges, and bananas. Leafy green vegetables are available in only 4% of East Harlem bodegas and 2% of Central Harlem stores. The South Bronx likely faces similar shortages. About 20% of New Yorkers in these neighborhoods reported that they ate no fruits or vegetables the previous day, according to the 2004 Community Health Survey.
More than one in four of residents of Harlem and South Bronx is obese, compared to one in five citywide. The rate of diagnosed diabetes in these neighborhoods is more than 50% higher than the citywide average (about 14% vs. 9%, according to the Health Department's 2004 Community Health Survey).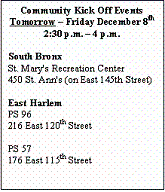 "For kids, snacking on apples or carrots instead of chips or candy can make a big difference," said Health Commissioner Dr. Thomas R. Frieden. "Many New Yorkers do not have the option to make healthy food choices for themselves and their families. Eating fruits and vegetables can prevent obesity, diabetes, cancer, and heart disease. Bodegas are an important food source in these communities, and we want these foods to be available and convenient for all New Yorkers, no matter where they live."
"Many New Yorkers buy their groceries at bodegas and we want to be able to offer customers a variety of healthy foods," said Jose Fernandez, president of the Bodega Association of the United States, which is headquartered in Washington Heights. "We are glad to be participating in this exciting initiative."
The Move to Fruits and Vegetables pilot program builds on the successes of the "Moooove to 1% Milk" pilot launched in January of 2006 to promote 1% milk instead of higher fat milk. Bodegas that participated in this project now order 1% milk as part of their regular milk order and indicate growing customer demand. Stores have reported success and satisfaction with the project, and they are confident 1% milk will continue to sell.
Nutrition Guidelines for Fruits and Vegetables
Healthy eating can prevent illnesses such as heart disease, cancer, high blood pressure, obesity and diabetes. Fruits and vegetables are high in fiber, vitamins and minerals, and low in fat, calories and sodium. The U.S. Dietary Guidelines recommend that most people eat about two cups of fruit and two and a half cups of vegetables each day. Most servings should come from whole fruits and vegetables rather than juice.
To find out how many fruits and vegetables you need, please visit: http://www.mypyramid.gov/downloads/MyPyramid_Food_Intake_Patterns.pdf
Maps of participating bodegas in Harlem and the Bronx are available online. For more information on healthy eating, please see: http://www.nyc.gov/html/doh/html/cdp/cdp_pan_know.shtml.
###