How to KICK Asthma:
Know what worsens your asthma.
Inform your doctor about frequent asthma symptoms.
Control symptoms by using long-term medicines and avoiding triggers.
Keep regular doctor's visits, and ask your doctor for a written Asthma Action Plan.
NEW YORK CITY – November 9, 2006 – Fewer children are being hospitalized for asthma, according to the most recent data released today by the New York City Department of Health and Mental Hygiene (DOHMH). The rate of asthma hospitalizations among children age 0-14 decreased by 17% from 2004 to 2005 (from 6.5 to 5.4 per 1,000 children) and 43% since 1997 when it was10.2 per 1,000 children. However, New York City's childhood asthma hospitalization rate remains well above the national rate of 3.1 per 1,000. Complete 2005 asthma hospitalization data is available at http://www.nyc.gov/html/doh/html/asthma/asthma.shtml.
Among the boroughs, the Bronx had the highest rate of childhood asthma hospitalizations in 2005 (8.9); Staten Island had the lowest rate (2.5). The neighborhoods with the highest rates – double the citywide average – were East Harlem (11.2) and Central Harlem (11.9) in Manhattan, Highbridge-Morrisania (11.0), Hunts Point-Mott Haven (9.6) and Crotona-Tremont (10.3) in the Bronx, and Williamsburg-Bushwick (10.5) in Brooklyn.
"Asthma can be controlled with the right care and medications," said Health Commissioner Dr. Thomas R. Frieden. "And New Yorkers can eliminate a major asthma trigger by making their homes smoke-free."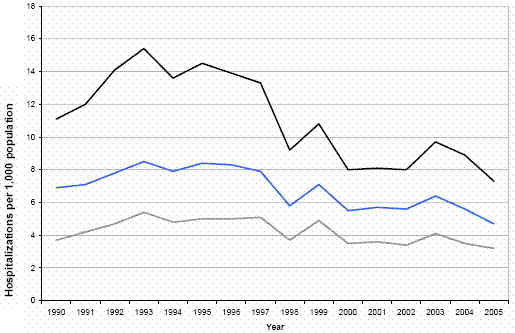 Low-income neighborhoods have had the highest asthma hospitalization rates over time but have also experienced a greater decline in rates (45%) compared with the wealthiest neighborhoods (37%) since 1997. However, rates in 2005 remained more than twice as high in lower-income neighborhoods (7.3 per 1,000 children) compared with affluent neighborhoods (3.2 per 1,000). The reasons for higher rates of asthma in lower-income populations are not completely known, but contributing factors may include differences in health care access and asthma treatment, in housing conditions such as cockroach infestation, and in other environmental factors.
The decrease in childhood asthma hospitalization rates may in part be due to improved primary care access among children in low income families, resulting from the expansion of health care coverage under Child Health Plus and other initiatives. A wider use of inhaled corticosteroids, the most effective long-term control medicine for asthma, has also contributed to this trend. DOHMH has implemented many programs to help health care providers and individuals control asthma, and has encouraged patient-self management and written asthma management plans.
"We are developing a community network approach to coordinating asthma care," said Dr. Andrew Goodman, DOHMH's Associate Commissioner of the East and Central Harlem District Office. "With the help of schools, daycare programs, health care providers, and the greater community, we can continue to make a difference in the impact of asthma on children."
Active Asthma Management
Individuals with asthma can take several steps to manage their asthma:
Ask your doctor about inhaled corticosteroids if you have frequent asthma symptoms (symptoms for more than two days per week, or nighttime symptoms more than two nights per month).
If you do not have a written asthma management plan or if your asthma medications have changed, work with your (or your child's) doctor to develop an Asthma Action Plan.
Take medications as directed by your health care provider.
For school-aged children, ask your child's doctor to complete a school medication administration form so that your child can take his/her asthma medicines at school.
Talk to your doctor about allergy medications to help reduce or eliminate allergy symptoms.
Ask your health care provider about taking asthma medicine before you exercise.
Work with your doctor to find out what triggers your asthma and how to limit exposure.
Don't smoke and avoid exposure to tobacco smoke as it can trigger asthma episodes.
Use safe methods to control pests like roaches and rodents (e.g., seal cracks and crevices, use bait stations and gels, and store food in air tight containers).
Wash your hands regularly to reduce the spread of germs that cause colds and infections.
Get a flu shot every year.
Prevent pollen and certain outdoor air pollutants from entering your home by keeping your windows and door closed when pollen counts or air pollution levels are high. Use air conditioning in warm weather if possible and clean its filter regularly.
A HEPA (High Efficiency Particulate Air) cleaner may help reduce exposure to some asthma triggers. Follow the manufacturer's directions for cleaning it.
Working to Control Asthma in New York City
Asthma is chronic lung inflammation and episodes of airway tightening that cause symptoms such as wheezing, coughing, chest tightness, and shortness of breath. DOHMH has many initiatives to help reduce the burden of asthma in New York City.
New York City's Asthma Initiative (NYCAI) targets children 14 and under in communities with the highest asthma rates and provides support for adults with asthma. Hunts Point, the first target area of the New York City Asthma Initiative, has had a 58% decrease in hospitalization rates for asthma since 1997 when the rate was 22.6 for every 1,000 children. NYCAI coordinates the New York City Asthma Partnership, a citywide coalition of over 300 schools, daycares, health care institutions, pharmacies, community organizations, and government agencies, to:
Improve medical standards of care and education for children and adults with asthma
Reduce asthma triggers in both homes and communities
Enhance self-management support for individuals with asthma
Create "asthma friendly" schools, daycare settings, and recreation programs
Monitor individuals with asthma
Managing Asthma in Schools and Daycare provides enhanced asthma training to public school nurses and physicians as well as daycare staff and parents, works to improve communication between school health clinicians, community providers and daycare programs, provides asthma self-management education to students, and monitors students' asthma and other medical care. In Fall 2005, the Department initiated the Asthma Care Coordinator Project to provide follow-up support to children with asthma who visit the Emergency Department, are hospitalized, or are identified in schools as being poorly controlled.
DOHMH's Community Integrated Pest Management Program works with pest control agencies and community partners to eliminate roaches and rodents, common asthma triggers, in low-income apartments using safe methods. To read the Health Department's guide to safe pest control, visit http://www.nyc.gov/html/doh/downloads/pdf/pest/pest-bro-healthy-home.pdf.
DOHMH's East and Central Harlem District Public Health Office focuses on improving asthma care and management in East and Central Harlem by ensuring that children with asthma are identified and well-supported.
For asthma information, call 3-1-1 or visit nyc.gov/health.
###