NEW YORK CITY – November 2, 2006 – The Department of Health and Mental Hygiene (DOHMH) and New York City Councilman Miguel Martinez today urged New Yorkers to avoid using Tres Pasitos, a highly toxic rat poison made in the Dominican Republic and Mexico and sold illegally in New York City. In October, three New Yorkers – one child and two adults – were poisoned by Tres Pasitos. All have made a full recovery.
Tres Pasitos can easily be confused for food because it is made of small brown grains. It is being sold in unlabeled containers or clear plastic bags. So far in 2006, there have been 15 individuals poisoned, including 3 children. These cases occurred primarily in Washington Heights in Manhattan and in the South Bronx. In 2005, there were 5 cases of Tres Pasitos poisoning; none of them were children.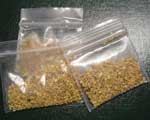 Tres Pasitos, as commonly sold in New York
"Tres Pasitos is a dangerous poison that can cause serious illness and even death," said Robert Hoffman, M.D., Director of the Health Department Poison Control Center. "While there are a handful of poisonings each year, we have already seen triple the amount this year compared with 2005. Swallowing even a very small amount of Tres Pasitos can be dangerous, and can cause vomiting, weakness, dizziness, sweating, and shortness of breath. Call the Poison Control Center 24 hours a day at (212) POISONS if you suspect poisoning."
Councilmember Miguel Martinez, who represents Washington Heights, said, "No one should have to live in an infested home. Pests can be eliminated safely without the use of Tres Pasitos and other dangerous pesticides. If New Yorkers have Tres Pasitos in their home they should seal it in a plastic bag and discard it in a container away from children and pets."
Tres Pasitos and Other Dangerous Pesticides
Tres Pasitos ("Three Little Steps") is the brand name of a rodent poison produced in the Dominican Republic and Mexico. It is often made with the chemical Aldicarb, a potent insecticide which is not approved for use as a household pesticide in the United States because of its potentially toxic effects on people and pets.
Aldicarb exposure in people can cause weakness, blurred vision, headache, nausea, vomiting, tearing, sweating, tremors, and, in high doses, death due to paralysis of the nervous system. Children are especially vulnerable to poisoning by Aldicarb. Tres Pasitos is generally sold without labels, and one cannot be certain of its contents. No one should ever use pesticides that are unlabeled or do not have an EPA registration number. DOHMH is working with the regional EPA office to determine the sources of Tres Pasitos and to help remove them from sale in New York City.
One in three households in New York City uses pesticides that may be hazardous to their health, according to a DOHMH report issued last December (http://www.nyc.gov/html/doh/downloads/pdf/survey/survey-2005pest.pdf). Unsafe and illegal products – such as Tempo® (illegal for personal use), Miracle Chalk and Chinese Chalk and Tres Pasitos– are also commonly purchased. Pesticide usage rates are higher overall in low-income Hispanic households and in areas where cockroach and rodent infestation is high (northern Manhattan, southern and central Bronx, and central Brooklyn).
If you suspect a poisoning, call the Poison Control Center 24 hours a day at (212) POISONS (764-7667); Spanish- speaking callers, call (212) VENENOS (836-3667). Please report any sales of Tres Pasitos, Chinese Chalk, and Tempo® to 3-1-1.
Safe Ways to Keep Pests Away
New York City housing and health codes require that landlords maintain apartments free from pests. New Yorkers can report conditions to 3-1-1 if their landlords are not cooperating. Landlords and families can take simple measures to reduce infestations and the use of pesticides:
Fix leaks and dripping faucets quickly. Keep sinks dry overnight.
Use caulk and plaster to seal holes and cracks in kitchens and bathroom walls, floors, ceilings and cabinets.
Store food in sealed containers, and do not leave food, pet food or garbage out.
Reduce clutter and piling of newspapers and cardboard.
Remove garbage daily from apartments, and put garbage on the curb as close to pickup time as possible.
Use only safer pest control products such as boric acid, gels and baits for cockroaches, and glue traps or bait in enclosed tamper-proof containers for rodents. Avoid foggers, bombs and sprays that spread chemicals throughout the home.
If you have Tempo®, Tres Pasitos, Cockroach Chalk or any other pesticide that is improperly labeled, seal it in a plastic bag and discard it in a container away from children and pets.
For more information on safely controlling pests in the home, visit http://www.nyc.gov/html/doh/downloads/pdf/pest/pest-bro-healthy-home.pdf
###