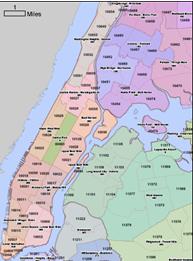 NEW YORK CITY – October 26, 2006 – The Department of Health and Mental Hygiene (DOHMH) today released a new set of comprehensive reports that detail the health of all New York City neighborhoods. These Community Health Profiles, updated and expanded versions of profiles first released in 2003, provide detailed information on major health issues including HIV, smoking, and health insurance, and serve as a critical resource for improving health community by community. The profiles reveal that even as the City grows healthier overall, significant health gaps persist among New York City neighborhoods. The complete set of 42 Community Health Profiles are available online at http://www.nyc.gov/html/doh/html/data/data.shtml.
Over the coming months, DOHMH will meet with community organizations, medical providers, community boards, and elected officials to present the Profiles and discuss health issues that each community is facing. New Yorkers can also get the latest information on their neighborhoods by checking out "My Community's Health" at nyc.gov/health.
"These reports put a magnifying glass on the health of our City," said Health Commissioner Dr. Thomas R. Frieden. "Our City is getting healthier, but we still see large differences among neighborhoods. By pinpointing health issues and illustrating gaps in health, we can focus our efforts where they are needed the most. We are putting this information into the hands of partners in the community who work to improve health in their neighborhoods."
"The profiles reflect the true picture of our community's health," said Dr. Purnima Naik, Director of Health Education at the Morris Heights Health Center in the Bronx. "More people have diabetes, heart disease and asthma in this community than other parts of the City, and many more people die of HIV/AIDS. This information is critical to understanding the needs of our patients and validating our clinical experiences."
"The profiles help our agency prioritize the real needs of the East and Central Harlem community," said Mario Drummonds, Executive Director of the Northern Manhattan Perinatal Partnership. "They give us up-to-date information that helps us align and target programs that improve maternal health. It is so important to get a clear picture of what is happening on the ground."
Key findings below show disparities in preventable illness and death:
While the overall smoking rate in NYC fell to 18% in 2004, smoking rates of greater than 30% persist in most Staten Island neighborhoods, including Mariner's Harbor, New Springville, Travis, Willowbrook, South Beach, and Tottenville.
Overall the death rate due to HIV-related disease has dropped dramatically in New York City in the past decade. However, the HIV-related death rate is higher in the Bronx than in other boroughs, this is largely due to very high rates within a few key neighborhoods. Within the Bronx, the HIV-related death rate in Highbridge and Morrisania is 10 times higher than the rate in Kingsbridge and Riverdale and more than 3 times higher than the rate in NYC overall.
Serious psychological distress (associated with depression and other mental illnesses) is reported by 6% of all New York City adults. However, in the Central Bronx, Fordham and Bronx Park, 10% of adults suffer from serious psychological distress.
Binge drinking – consuming 5 or more drinks on one occasion – is most common in higher income neighborhoods. In Chelsea, Clinton, Gramercy Park, Murray Hill, Greenwich Village, and Soho in Manhattan, more than 20% of adults report binge drinking, compared with 14% of New Yorkers overall.
Health insurance coverage varies widely by neighborhood. While less than 20% of New Yorkers overall do not have health insurance, more than one-third of adults in West Queens (including Corona, Elmhurst, Jackson Heights, Maspeth, and Woodside) are uninsured.
The Profiles show how well each neighborhood is meeting the 10 health priorities identified by Take Care New York, the citywide health policy implemented by DOHMH in 2003. Some neighborhoods have seen major improvements in key areas since 2002.
In Southwest Brooklyn (including Bay Ridge, Bensonhurst, and Dyker Heights), residents were more likely to report having a regular doctor in 2004 than in 2002 (86% vs. 74%).
In Southeast Queens (including Cambria Heights, Glen Oaks, Laurelton, Queens Village, and Rosedale) residents were more likely to report having a regular doctor in 2004 (92% vs. 78% in 2002). Residents were also less likely to smoke in 2004 than in 2002 (11% vs. 24%).
To focus on areas that bear the greatest burden of illness and deaths, and to reduce inequalities, DOHMH established District Public Health Offices (DPHO) in East and Central Harlem, North and Central Brooklyn, and the South Bronx.. These offices, opened in 2003, coordinate targeted programs and inform the communities about health issues and health services available to them.
"It is unacceptable that residents of Central Brooklyn suffer from higher rates of illness than other New Yorkers," said Dr. Adam Karpati, Assistant Commissioner for the Brooklyn District Public Health Office. "To get at the root of the problem we focus our efforts on the larger issues, such as access to health care, promoting healthy living, and reducing social and economic disadvantage. By taking a big-picture approach, we are changing health in the neighborhood for the better."
For these reports, DOHMH used neighborhood definitions developed by the United Hospital Fund, a non-profit organization in New York City. The reports cover 42 areas, defined by aggregated zip codes. Most of the data come from the DOHMH Community Health Survey, an annual, random-digit-dial telephone survey of approximately 10,000 adults conducted each year in New York City. Other data sources include the New York State Department of Health Statewide Planning and Research Cooperative System (SPARCS), which provides hospitalization data in New York City, and DOHMH Vital Records information (birth and death data).
To learn more about health in a neighborhood, visit nyc.gov/health or call 3-1-1 for hard copies of Community Health Profiles.
###