NEW YORK CITY — October 6, 2006 — The New York City Health Department today reminded distributors and consumers that Bolthouse Farms, a California-based company, recalled its "100% carrot juice" with sell-by dates up to and including November 11, 2006. The product should either be discarded down the drain or returned to the store. The company recalled this product after four botulism cases were discovered in Georgia and Florida; there have been no cases of botulism in New York City. According to the manufacturer's website, the product is sold at the following New York City locations (but may also be sold at other stores).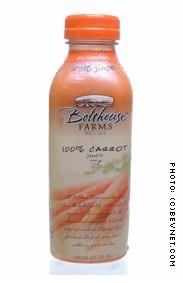 Western Beef
Whole Foods
Amish Fine Food
Balducci's
D'Agostino
Fairway
Food Emporium
Foodtown
Garden of Eden
Gourmet Garage
Gristedes
Pathmark
Consumers should not drink Bolthouse Farms Carrot Juice, 450 ml and 1 liter plastic bottles, with "BEST IF USED BY" dates of NOV 11 2006 or earlier. The affected products are Bolthouse Farms 100% Carrot Juice, Earthbound Farm Organic Carrot Juice and President's Choice Organics 100% Pure Carrot Juice.
FDA Statement (http://www.fda.gov/bbs/topics/NEWS/2006/NEW01475.html)
Bolthouse Statement (http://www.bolthouse.com/Bolthouse%20Press%20Release.pdf)
Bolthouse Question/Answer Sheet (http://www.bolthouse.com/BolthouseRecallFAQ.pdf)
CDC Report (http://www.cdc.gov/mmwr/preview/mmwrhtml/mm55d106a1.htm).
###