NEW YORK CITY - September 14, 2006 - The citywide infant mortality rate (IMR) was 6.0 infant deaths per 1,000 live births in 2005, a slight decrease from the 2004 rate of 6.1, according to the latest data released today by the Department of Health and Mental Hygiene (DOHMH). New York City's IMR is lower than the national rate of 6.8, according to preliminary 2004 national data.
IMR is defined as deaths of infants less than one year of age per 1,000 live births. In 2005, the IMR was based on 731 infant deaths and 122,725 live births, compared to 760 infant deaths and 124,099 live births in 2004. This was a decline in both the number of births (1.1%) and infant deaths (3.8%).
The citywide birth rate (the number of births per 1,000 New Yorkers) was 15.3 in 2005, the lowest in New York City since 1981. Reflecting national trends, the citywide birth rate has declined almost 7% in the past decade, almost entirely due to a fall in the number of teen births. Since 1996, the number of live births to teens has decreased by 34%, from 13,020 to 8,579.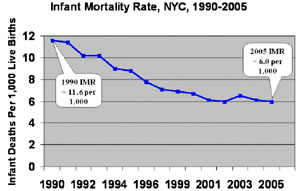 From 1990 to 2005, New York City's overall IMR declined 48% from 11.6 to 6.0 infant deaths per 1,000 live births. Year-to-year fluctuations in citywide IMR may not reflect an actual trend; therefore it is most meaningful to look at the changes in IMR over multiple years. For a full table of births, infant deaths and IMRs by year, download a detailed pdf file.
Infant mortality is influenced by many factors, including the mother's health and socioeconomic status before, during and after pregnancy. The use of alcohol, tobacco or other drugs during pregnancy, as well as access to and quality of health care services, contribute to increased risk of infant mortality. There has been a 13% increase in the proportion of mothers receiving prenatal care in the first three months of pregnancy since 2001.
Very low birth weight (VLBW) infants are those weighing less than 1,500 grams (3 pounds, 5 ounces) at birth. Most VLBW infants are born prematurely and have much higher rates of infant mortality than normal birth weight infants. As in previous years, VLBW infants accounted for approximately 60% of all infant deaths in 2005.
Infant Mortality Rates by Race/Ethnicity and Borough
In 2005, there was a reduction in the long-standing racial/ethnic disparities in New York City's IMR. Although the rates for Blacks and Puerto Ricans remain the highest in NYC, this year the IMR for Blacks decreased from 11.6 (2004) to 9.7 (2005), and the IMR for Puerto Ricans decreased from 7.5 (2004) to 6.7 (2005). During the same time period, there was an increase in IMR among whites from 3.5 (2004) to 4.7 (2005). The rate for Hispanics (other than Puerto Ricans) was 4.5 in 2004 and 4.6 in 2005. The rate for Asian/Pacific Islanders decreased from 4.1 (2004) to 3.7 (2005).
Health Commissioner Dr. Thomas R. Frieden, said, "Overall the infant mortality decreased this past year. And while some gaps among groups have narrowed, certain communities continue to have a disproportionate number of infant deaths. As in previous years, the rates for Black and Puerto Rican infants were higher than other groups. We are working closely with medical and community partners to reduce persistent disparities and improve the health of women, children, and families."
Infant mortality rates vary by borough, with higher rates in New York City's poorest neighborhoods. As in recent years, the Bronx's IMR remained higher than the City's average but decreased from 7.1 (2004) to 6.3 (2005). Brooklyn's IMR is now equal to the City's average having decreased from 6.6 (2004) to 6.0 (2005). This was the second consecutive year the IMR declined in the Bronx, suggesting that the 2003 rate (8.6) did not represent an upward trend.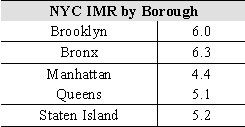 Highest IMRs -- Bedford, Brooklyn had the highest IMR in the City (11.6). Bedford includes the neighborhoods of Bedford-Stuyvesant and Crown Heights. Other neighborhoods with high IMRs included: Jamaica East, Queens (10.0), and Brownsville (9.1), and Bushwick (8.7) Brooklyn.

Lowest IMRs - Neighborhoods with the lowest IMRs were: Maspeth-Forest Hills (2.8) and Corona (3.1), Queens, Bay Ridge, Brooklyn (3.0), and the Lower East Side, Manhattan (3.1).

IMRs at the borough or neighborhood level are based on a relatively small number of infant deaths, and therefore year-to-year fluctuations may not represent an actual trend. A full table of IMRs by neighborhood for the current and previous years is available online at www.nyc.gov/html/doh/downloads/pdf/vs/vs-imr-neighborhood-2006.pdf.
Have a Healthy Baby - a Take Care New York Priority
DOHMH aims to reduce New York City's IMR to below 5.0 by 2008. DOHMH works with government, community and hospital-based providers, academic institutions, and other organizations to establish infant and maternal health programs in neighborhoods that have the highest infant mortality rates. Ongoing and expanded activities of DOHMH with its community partners to reduce infant and maternal mortality and unintended pregnancy include:
This year, the City is providing an additional $3.5 million to expand the Nurse Family Partnership (NFP) and the Newborn Home Visiting Program. The NFP, a comprehensive, evidence-based nurse home visiting program for low income, first-time mothers, will expand in the Bronx, Brooklyn and Queens. The NFP will also be available for teens in foster care, and women and teens in homeless shelters or leaving Rikers Island.
The Newborn Home Visiting Program will offer a home visit to all families with new babies who reside in East and Central Harlem (Manhattan), North and Central Brooklyn (Bedford-Stuyvesant, Bushwick, Brownsville), and to babies of first-time mothers in the South Bronx. DOHMH staff educate and instruct parents in breastfeeding and SIDS risk reduction and infant safety, conduct a home environmental assessment, and help families access medical care and other services.
The Healthy Women/Healthy Babies Initiative, sponsored by Mayor Bloomberg last year, has expanded efforts to reduce unintended pregnancy, including programs to increase awareness of and access to emergency contraception, education of pharmacists and primary care providers, and public education.
The Healthy Teens Initiative was implemented this year to ensure adolescents' access to comprehensive sexual and reproductive health services. DOHMH will offer free toolkits, and training and technical assistance to health care providers.
The Breastfeeding Initiative is continuing its work with hospitals, WIC (Women, Infants and Children) and community agencies to increase breastfeeding initiation and duration in NYC, in an effort to encourage women to exclusively breastfeed their babies for at least six months.
The DOHMH, in partnership with the Bronx Borough President's Office and community-based organizations, has convened the Bronx Strategic Action Committee to discuss disparities in maternal and infant birth outcomes in the Bronx. Members are working to develop community-based health interventions to improve maternal and infant health for Bronx residents.
DOHMH convenes the Citywide Infant Mortality Case Review Committee, which reviews and analyzes infant deaths and makes recommendations for program and policy interventions to reduce the risk of infant mortality. To reduce the number of unintended injuries, the Committee is developing a safe sleep education program for families and providers
The Infant Mortality Reduction Initiative, funded by the City Council, works to strengthen the infrastructure, capacity, and effectiveness of community-based organizations and services to reduce infant mortality through health education workshops, outreach, referral services, case management and other activities.
Infant mortality and live birth data are derived from vital event certificates filed with the Department's Bureau of Vital Statistics. Information on how to obtain birth and death certificates is available at www.nyc.gov/html/doh/html/vr/vr.shtml. DOHMH appreciates the dedicated community-based organizations, public officials, advocates, hospitals, and providers actively engaged in other important community-based and citywide efforts to prevent infant and maternal mortality. Call 311 and ask for women's health information or visit www.nyc.gov/health/maternity for more information on maternal, infant and reproductive health.
###