NEW YORK CITY – August 23, 2006 – There were 2,644 new childhood lead poisoning cases among children age 6 months up to 6 years in New York City in 2005, a 17% decline from 2004, and an 86% decline in cases over the past 11 years according to data released today by the New York City Department of Health and Mental Hygiene (DOHMH). Despite steady improvement, childhood lead poisoning remains a significant health problem in some New York City neighborhoods.
"While we have made tremendous progress in reducing childhood lead poisoning in New York City, more needs to be done if we are to reach our goal of eliminating childhood lead poisoning," said DOHMH Commissioner Dr. Thomas R. Frieden. "Prevention of childhood lead poisoning requires the participation of parents, landlords, doctors and other community members. Landlords must comply with the law and correct lead hazards. Parents should report peeling paint in their homes to their landlords, who must repair these conditions. Health care providers are required by New York State law to test all 1- and 2-year-old children and other children who may be exposed to lead."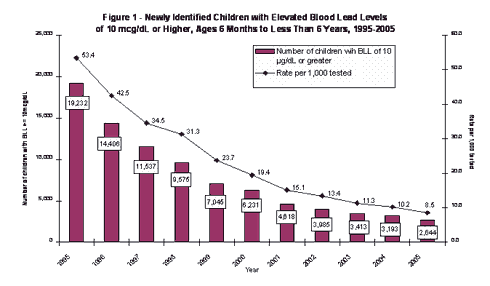 Continued Progress in Reducing Childhood Lead Poisoning
In 2005, 2,644 children (ages 6 months up to 6 years) were reported with first-time blood lead levels of 10 µg/dL (micrograms per deciliter) or greater, compared to 3,193 children in 2004 and 19,232 children in 1995 – an overall reduction of 86% over the past 10 years. The rate of children who had elevated blood levels was 8.5 per every 1,000 children tested in 2005 compared with 10.2 per 1,000 in 2004, and 53.4 per 1,000 in 1995. Newly reported lead poisoning cases at higher blood lead levels also continued to decline in 2005, with the number of children with blood lead levels of 20 µg/dL or greater dropping 20% from 354 in 2004 to 284 in 2005.
Blood Lead Testing Rate Remains Steady
Health care providers are required by law to test all children at both one and two years of age, assess the risk of lead exposure for children up to age 6, and test children found to be at risk for lead exposure. In 2005, 72% of one-year-old children and 60% of two-year-old children were tested for lead poisoning. Since most children with elevated blood lead levels show no symptoms, testing is the only way to identify children who may be exposed to lead. DOHMH has several innovative programs targeted at health care providers and organizations to promote testing of one- and two-year-old children for lead poisoning.
More Children Receive Environmental Intervention Services
DOHMH provides environmental investigation and case coordination services for children in New York City with blood lead levels equal to or exceeding the Environmental Intervention Blood Lead Levels (EIBLL). In August 2004, the EIBLL was lowered to one blood lead level of 15 µg/dL or greater, requiring DOHMH to investigate at this lower blood level.
"Deteriorating or peeling lead paint and lead dust are the primary causes of lead poisoning for young children," said Nancy Clark, DOHMH's Assistant Commissioner for Environmental Disease Prevention. "In 2005, lead paint hazards were identified in homes of 79% of children with EIBLLs. Infants and toddlers are particularly at risk for lead poisoning because they crawl and play on floors and can swallow lead dust when they put their hands and toys in their mouth."
As in the past, lead poisoning cases were concentrated in certain neighborhoods in the city, with about 44% of children with EIBLLs residing in Brooklyn. More than half lived in 9 of the City's 42 neighborhoods, as defined by the United Hospital Fund, including Bedford Stuyvesant/Crown Heights, East Flatbush/Flatbush, Williamsburg/ Bushwick, East New York and Borough Park in Brooklyn; Fordham/Bronx Park in the Bronx; and Jamaica, and West and Southwest Queens in Queens. DOHMH targets prevention activities to these neighborhoods to increase awareness and reduce exposure to lead hazards.
Parents Can Protect Their Children from Lead Poisoning
Report peeling paint to your landlord. In New York City, landlords are required to fix peeling paint in homes of young children.
Remind your doctor to test your child for lead poisoning at ages 1 and 2. Ask the doctor about testing older children who may be at risk for lead exposure.
Wash floors, windowsills, hands, toys and pacifiers often.
Don't use imported foods and spices, medicines, clay pots and dishes, cosmetics, and toys known to contain lead.
Use only cold tap water to make baby formula and for drinking and cooking. Run the water for a few minutes first.
New Yorkers may call 311 or visit http://www.nyc.gov/health for more information about how to prevent childhood lead poisoning or to report peeling lead paint. For more on DOHMH's Lead Poisoning Prevention Program, please visit http://www.nyc.gov/html/doh/html/lead/lead.shtml.
###