NEW YORK CITY – July 21, 2006 – Foreign-born New Yorkers are generally healthier than U.S.-born New Yorkers, but face challenges accessing health services, and some aspects of their health may decline after arriving in New York City, Health Commissioner Dr. Thomas R. Frieden announced today. Foreign-born adults are less likely to smoke, drink alcohol excessively, be obese or be diagnosed with HIV than the U.S. born, and have a lower infant mortality rate. Data come from a new Health Department report entitled "The Health of Immigrants in New York City," the first comprehensive analysis of the health of foreign-born New Yorkers. Joining Dr. Frieden for today's announcement were Immigrant Affairs Commissioner Guillermo Linares, Health and Hospitals Corporation (HHC) President Alan D. Aviles, and immigrant-serving community organizations and health providers.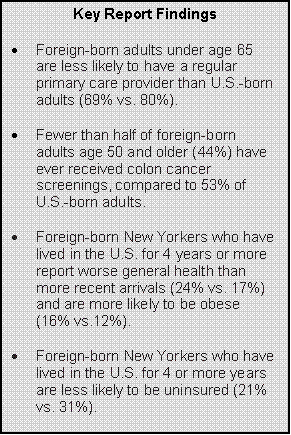 Foreign-born New Yorkers are, in general, less likely than U.S.-born New Yorkers to smoke, be obese, diagnosed with HIV infection, and binge drink; they also have a lower infant mortality rate. When immigrants arrive here, they face significant challenges accessing health service and preventive care; these barriers are especially problematic for Spanish speakers. While immigrants are better able to access care over time, evidence suggests that some aspects of immigrants' health – such as obesity – worsen the more time they spend in the U.S.
Report findings indicate that access to health care is a challenge for foreign-born New Yorkers, particularly for Spanish-speakers. They are less likely to have a primary care provider (52%) compared to English-speaking immigrants (74%), and are twice as likely to report being unable to obtain medical care when needed. Among those with health care coverage, foreign-born adults who speak Spanish are more likely to use hospital emergency departments as their primary source of care than those who speak English.
The report also found that foreign-born adults are less likely than the U.S.-born to use preventive care services. For example, the foreign-born are less likely than the U.S.-born to have their blood pressure (86% vs. 92%) and cholesterol checked (67% vs. 77%), and less likely to receive colon cancer screenings (44% vs. 53%) and Pap tests (73% vs. 84%).
Large Differences Exist by Country of Birth
Data suggest that adults born in Ukraine are twice as likely to smoke as other foreign-born New Yorkers. Adults born in Italy, Poland, Mexico and Russia also have high smoking rates.
Data suggest that individuals from Panama and Honduras are more likely to be obese than the overall foreign-born or U.S.-born populations; adults born in Korea are the least likely to be obese.
Adults born in Honduras are three times more likely to report having diabetes than overall U.S.-born and foreign-born populations.
The rate of new HIV diagnoses among adults born in Haiti is almost four times that of the foreign-born population and nearly 1.5 times that of U.S.-born New Yorkers.
"In general, immigrants arrive in New York City with better health than U.S.-born New Yorkers," said Commissioner, Dr. Thomas R. Frieden. "Exposure to the U.S. environment appears to increase their risk of obesity and may contribute to a decline in general health. Language barriers, immigration status and environmental factors such as greater availability of unhealthy food and decreased physical activity may worsen health among some immigrant New Yorkers."
"In a city where one out of every three New Yorkers was born abroad and almost one of every two workers is foreign-born, this report is a huge resource for improving the health of families and communities," said Commissioner Linares. "Making sure that children get to school, that workers perform their tasks, and businesses open their doors every day protects the health of all New Yorkers. I encourage health care providers and policy makers to use this report to tailor their outreach to the needs of immigrants."
"HHC has a long and proud history of serving all New Yorkers, regardless of immigration status or ability to pay," said HHC President Alan D. Aviles. "Our commitment to fight chronic diseases and other health issues that disproportionately affect New Yorkers of diverse backgrounds is reflected in our daily work. We are helping people with diabetes control their blood sugar levels and blood pressure, fighting asthma to keep children in school and out of the emergency department, aggressively screening for colon, breast and other cancers to ensure early detection and treatment, and expanding our HIV testing program to link those with HIV to care at the earliest possible time. And, we accomplish all this with the cultural and linguistic competence, as well as the pledge of confidentiality, that is sensitive to the specific needs of immigrant New Yorkers."
Virtually all of DOHMH's programs address the needs of non-English speaking populations. For example, DOHMH has:
Launched a multilingual tuberculosis (TB) education campaign to address the growing proportion of new TB cases in foreign-born New Yorkers. Print advertisements have run in nine languages and posters have appeared in five languages.
Created smoking cessation campaigns specifically for Russian and Chinese communities in New York City.
Facilitated enrollment of uninsured New Yorkers into health insurance programs – including children and adults, vulnerable and "hard to reach" immigrant populations.
Developed a cultural competence project for mental hygiene providers to improve assessment and treatment of other-than-English speaking New Yorkers.
Worked with HHC to significantly increase awareness about and screening for colon cancer. Last year, HHC hospitals performed nearly 20,000 colonoscopies.
Educated other-than-English speaking communities about particular imported products or foods that contain lead, mercury or other ingredients that are harmful to health.
Translated health education materials into multiple languages, including emergency planning and preparedness information.
DOHMH developed The Health of Immigrants in New York City report with support from the Commonwealth Fund and the Fund for Public Health in New York. With an ever-growing immigrant population New York City's health is increasingly characterized by the health of the foreign-born. Based on the findings of this report DOHMH recommends that:
City agencies and community-based organizations facilitate the connection between immigrants and public resources such as Medicaid, Child Health Plus, State Children's Health Insurance Program (SCHIP), as well as others.
Providers create culturally appropriate health-related materials in commonly spoken languages and make language translations available through trained interpreters.
City agencies and community-based organizations target resources and interventions to subgroups of foreign-born population most at risk.
New York City Public Health Clinics and Public Hospitals
DOHMH has clinics located throughout all five boroughs and offers services for HIV/AIDS and other sexually transmitted diseases, tuberculosis, maternal health (including emergency contraception), immunizations, child health, and a variety of other health services. DOHMH services are always confidential, and are offered free of charge and irrespective of immigration status. For more information about DOHMH services, or clinic hours of operation, call 311 or visit nyc.gov/health. Interpretation services are available at clinic sites and through 311.
HHC operates a network of 11 hospitals and six diagnostic and treatment centers, four long-term care facilities, more than 80 community clinics and a home health care agency. HHC provides care to all regardless of ability to pay. HHC serves 1.3 million New Yorkers annually, including more than 450,000 who have no health insurance. For more information about HHC, visit www.nyc.gov/hhc.
###