NEW YORK CITY – July 3, 2006 – Properly installed window guards protect children from death and serious injuries, the New York City Department of Health and Mental Hygiene (DOHMH) reminded New Yorkers today. Owners and managing agents of multiple-dwelling buildings are legally required to install window guards in apartments where children 10 years of age or younger reside. Additionally, tenants are required to inform their landlord when they have children ages 10 and younger living in their apartment.
"Most window falls can be prevented if window guards are properly installed," said DOHMH Commissioner Dr. Thomas R. Frieden. "Parents and caregivers of young children are required to have window guards and, if they don't, they should ask their landlord to install them. Tenants who have contacted their landlord to install or repair window guards and have not received a response can call 311 to file a complaint. Building owners can also call 311 to report tenants who refuse to have these guards installed as required by law."
If children 10 years or younger live in your apartment, OR if you provide child care services in your apartment, you must:
Inform the landlord of that fact.
Let the landlord come in to install window guards.
Not take down window guards once they are installed.
Not make alterations to window guards.
Not remove any part of a window guard.
DOHMH-Approved Window Guards and Proper Installation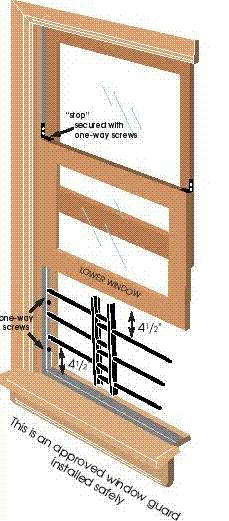 All DOHMH-approved window guards have a manufacturer's approval number visibly imprinted on a vertical stile of the guard; and must be appropriate for the type of window in which they are being installed. New Yorkers who have questions regarding window guard installation, types of approved window guards and where to purchase them, or those who would like a copy of the law or educational materials may contact DOHMH's Window Falls Prevention Program by calling 311.
DOHMH offers the following guidelines to determine if your DOHMH-approved window guards are properly installed:
On "double-hung" windows, two L-shaped stops should be screwed into the window's tracks – one on each side – to keep the bottom window from being opened more than 4½ inches from the top bar of a window guard.
There should be no opening or space greater than 4½ inches, on any window, including "double hung, casement or sliders." Limiting devices should be installed immediately on any window for which a window guard is unavailable.
The window guard must be installed tight on both sides with special "one-way or tamper-proof" screws approved by the DOHMH.
A window guard installed in a rotting or loose window frame may fall out. These windows should have limiting devices installed that will prevent the window from opening more than 4½ inches until a window guard may be securely installed to the frame.
Additional recommendations to prevent window falls
Carefully check window guards periodically to assure they still are securely installed.
Keep children off balconies and terraces unless accompanied by an adult, and keep balcony and terrace doors locked when children are not supervised by an adult.
Even if you don't have children living at home, it's a good idea to install window guards, especially if children frequently visit.
Never let your child play:

on fire escapes
on balconies or terraces
on rooftops
in hallways with windows that do not have window guards, or near elevator shafts
For more information about window guards and preventing window falls, or about your rights as a tenant, call 311 or log on to http://www.nyc.gov/html/doh/html/win/winbas1.shtml.
###