NEW YORK CITY – June 28, 2006 – Following an increase in meningitis cases in North Central Brooklyn over the past several months, the Department of Health and Mental Hygiene (DOHMH) will begin a targeted vaccination effort over the next several weeks to reduce further spread of meningitis. Since December 2005, there have been 23 cases of the same strain of meningococcal disease (meningitis) identified in and around the Bedford-Stuyvesant neighborhood, including 8 deaths. There have been no new related cases in Brooklyn identified since June 6, and no other related cases have been reported outside of Brooklyn since December 2005.
DOHMH will offer vaccine primarily to people who use drugs, since most of the recent cases share this characteristic. Starting this week, DOHMH will work with drug treatment programs and other health care providers in the community to offer vaccine. Consistent with characteristics of people who have become ill with meningitis thus far, DOHMH will only vaccinate people who meet the following criteria:
People who are 18 years of age and older AND
Have used cocaine, crack, heroin or methadone in the past 3 months AND
Either reside in or used drugs (in the past 3 months) in the zip codes: 11206, 11221, 11216 and 11233.
Vaccine will also be made available for people who live in the same household as those who meet the above criteria.
New Yorkers who meet these criteria should call 3-1-1 to find a location for meningitis vaccination. People who don't meet the above criteria do not appear to be at increased risk for getting sick and should not be vaccinated at this time. Additionally, a small number of people may have medical conditions and should not be vaccinated. There is no approved vaccine for children under 2 years of age.
DOHMH Commissioner Thomas R. Frieden, MD, MPH said, "Over the past several months, there has been a cluster of meningitis cases in this community. Vaccinating those who appear to be at greatest risk – people who use drugs in this area – is an important step to stop further spread of illness. Those who don't meet these criteria are not at increased risk for meningitis, and do not need to be vaccinated."
"Vaccination does not need to occur immediately," Dr. Frieden continued. "We expect this effort will continue for the next several weeks and possibly longer. It's important to note that even after we start vaccinating people, there may be more cases – as has been seen in similar situations outside of New York City. This is an unusual circumstance, and we are taking steps that will have the best chance of reducing any further spread of meningitis."
DOHMH is continuing to closely monitor the situation. While it is not clear why drug users in these communities appear to be at greater risk, the illness is not caused by the drugs themselves, and the increase may be related to close contact among people who have been affected. Regular drug use can weaken one's immune system, which may make it easier for drug users to get sick with this or other diseases.
"This will be a difficult vaccination effort, in part because we are also in the midst of a nationwide shortage of meningitis vaccine," Dr. Frieden added. "We are continuing to work closely with the medical community to ensure that those at greatest risk of meningitis infection can get vaccinated. We have asked the federal government for additional vaccine, and will receive more in the coming weeks and months."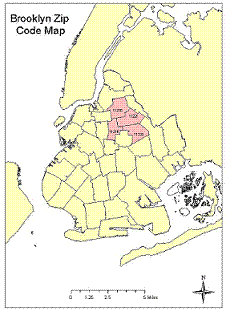 DOHMH response to the situation in Brooklyn thus far:
Investigated all reported cases to identify household contacts who should receive preventive antibiotics. DOHMH has evaluated more than 200 contacts of people who have become sick from meningitis and given antibiotics to prevent illness when indicated.
Held community and school information sessions, and will offer further informational sessions to area residents in the coming weeks.
Alerted all area doctors to immediately report any possible cases of meningitis to DOHMH.
DOHMH will continue investigations to determine whether further vaccination efforts might be needed. If additional cases of meningitis are identified, DOHMH will ensure that all close contacts receive antibiotics to prevent spread of illness.
Information about Meningitis Vaccine
There are 2 licensed meningococcal vaccines in the U.S. One is a conjugate vaccine for persons 11-55 years of age. The second is a polysaccharide vaccine for persons 2 years and older. Both vaccines are effective against the strains of N. meningitidis bacteria that account for most meningococcal infections in the U.S, including the strain involved in the cases in Brooklyn. It takes 7 to 10 days for the vaccine to provide protection.
In May, DOHMH sent a letter to all New York City medical providers letting them know that – due to the nationwide shortage – demand for meningitis conjugate vaccine has outpaced the supply. Sanofi Pasteur (the sole manufacturer of both vaccines) anticipates that supply issues will continue for many weeks and possibly months. Until more vaccine is available, the federal Advisory Committee on Immunization Practices (ACIP) has recommended that providers across the nation not vaccinate children 11-12 years old, but should keep a list and recall them for vaccination when supply improves.
However, ACIP's overall recommendations for vaccination remain unchanged and should continue for adolescents at high school entry, for college freshmen living in dormitories, and for those who are otherwise at high risk for meningococcal disease.
Periodic updates about the nationwide vaccine supply will be available on the ACIP website at www.cdc.gov/nip/news/shortages/default.htm.
Information about Meningitis:
Meningococcal disease is an infection caused by a bacterium called Neiserria meningitidis. In its two most serious forms it can cause an infection of the blood (blood poisoning) or the lining of the brain (meningitis). Symptoms of bacterial meningitis usually develop suddenly and can range from mild to life-threatening. These include skin rash, fever, headache, vomiting, stiff neck, confusion, and/or seizures. People experiencing severe symptoms should seek immediate medical care.
Meningococcal disease is spread by respiratory and oral secretions through coughing or kissing with open mouths. Household members and people who spend many hours together with a sick person are at the greatest risk. The disease is not spread by casual contact or by simply breathing the air where a person with meningitis has been.
Outbreaks of meningitis typically occur in settings where residents share close living quarters, such as military barracks and college dormitories. Community outbreaks are rare in the United States.
For more information on meningitis, please visit http://www.nyc.gov/html/doh/html/cd/cdmen.shtml. If New Yorkers have questions or concerns, they are encouraged to call their regular doctor.
###