NEW YORK CITY – June 19, 2006 – More New Yorkers are taking steps to live longer and healthier lives, including having a regular doctor, getting life saving colonoscopies, and quitting smoking, the New York City Department of Health and Mental Hygiene (DOHMH) announced today. Marking the second anniversary of the City's ambitious Take Care New York (TCNY) health policy, DOHMH issued its annual progress report on the health of the City. The report was formally presented to TCNY partners and others today at the Borough of Manhattan Community College.
Launched in 2004, Take Care New York outlines 10 key steps all New Yorkers can take to be healthier, focusing on the health issues that cause hundreds of thousands of preventable illnesses and deaths in New York City each year. DOHMH aims to drastically improve health in these areas by 2008.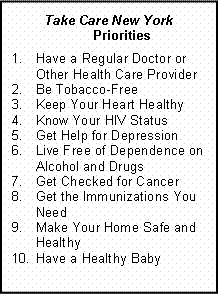 Since 2002, significant progress has been made:
290,000 more New Yorkers have a regular doctor. The number of New Yorkers with a regular health care provider rose significantly between 2002 and 2005, from 4,470,000 to 4,760,000 (75% of the way to the 2008 goal of 4,850,000).
13% overall decline in adult smoking rates. The percentage of adult New Yorkers who smoke decreased from 21.6% in 2002 to 18.9% in 2005 (more than 60% of the way to the 2008 goal of 18%). While there has been a large decrease in smokers since 2002, smoking rates among New York City adults leveled off between 2004 and 2005.
300 fewer deaths from HIV. The number of New Yorkers who died from HIV/AIDS-related illness decreased from 1,712 in 2002 to 1,412 in 2005 (more than 40% of the way to the 2008 goal of fewer 1,000 HIV deaths).
176 fewer deaths from alcohol and drugs. The number of New Yorkers who died from alcohol-attributable causes decreased from 1,551 in 2002 to 1,444 in 2004 (more than 70% of the way to the 2008 goal of 1,400 deaths). Deaths from drug-related causes declined from 905 in 2002 to 836 in 2005 (28% of the way to the 2008 goal of 655).
30% increase in colonoscopy screening rates. The percentage of New Yorkers over age 50 who received a colonoscopy screening for colon cancer within the last 10 years increased from 42% in 2003 to 55% in 2005, (65% of the way to the 2008 goal of 60% of New Yorkers age 50 and over).
Fewer young children newly identified with lead poisoning. Nearly 150 fewer children under age 6 were newly identified with lead poisoning and a lead-based paint violation in 2005 than in 2002 (more than 30% of the way to the 2008 goal of fewer than 260 children).
"We have made significant progress toward our goals, but more needs to be done" said DOHMH Commissioner Dr. Thomas R. Frieden. "Most New Yorkers want to live longer and healthier lives, as evidenced by the fact that more New Yorkers today have a regular doctor and get cancer screenings than just a couple of years ago. And fewer New Yorkers are dying from preventable causes including HIV/AIDS and substance abuse. Our kids are getting a healthier start as lead poisoning cases drop."
In 2005, DOHMH took many steps to achieve TCNY goals, including:
Implemented 6 Public Health Detailing campaigns – diabetes, smoking cessation, contraception, influenza, colon cancer, and hypertension – during which thousands of in-person contacts are made with health care providers and their office staff to promote key health promotion and disease prevention messages.
Distributed 75,000 courses of nicotine replacement therapy (NRT) directly to New York City smokers through 311, community partnerships, and outreach events.
Created a diabetes A1C registry to better monitor the diabetes epidemic and implement interventions to improve quality of care and quality of life for New Yorkers with diabetes.
Expanded HIV prevention efforts by distributing more than 10,000,000 male and female condoms and expanding syringe exchange programs. DOHMH increased availability of rapid HIV testing in its clinics and on Riker's Island, resulting in more than 75,000 rapid HIV tests conducted in 2005.
Introduced Screening Brief Intervention and Referral for Treatment (SBIRT) for alcohol and substance use problems at 5 HHC emergency departments, trained more than 300 staff in SBIRT techniques, and provided funding to hire a patient advocate.
Responded to flu vaccine shortages by distributing more than 330,000 doses of flu vaccine to nursing homes, home care agencies, health care institutions, and private physicians, especially those in the City's most underserved areas.
Established the Primary Care Information Project to facilitate the use of electronic health records for 1,000 community-based health care providers.
Introduced Healthy Women/Healthy Babies Initiative, which will increase access to emergency contraception, increase funding for family planning activities, and expand the number of first-time mothers served by the Nurse Family Partnership.
Dr. Frieden continued, "Many of the innovative actions that we have taken have been successful, but we have much more to do, especially in the areas of infant mortality, breast and cervical cancer screenings, and domestic violence. We have set the bar high and with the help of our many partners we can reach our goals for 2008."
A growing network of nearly 185 Take Care New York partners, including hospitals, clinics, insurers, and community-based organizations, are dedicated to improving the health and well-being of their clients, patients and employees. With these partners, DOHMH distributed more than 1.3 million "Health Passports" in 2005, a tool that helps people track their personal health information in English Creole, Urdu, Italian, Polish, Yiddish, and Arabic, in addition to in English, Spanish, Russian and Chinese. More than 3 million Passports have been distributed since Take Care New York was launched in 2004.
The report is comprised of data from DOHMH's 2005 Community Health Survey and preliminary vital statistics data from 2005. For more information on Take Care New York, to order literature, or to become a TCNY partner organization, visit www.takecarenewyork.org or call 311.
###
Select Take Care New York Indicators: 2002 - 2005