NEW YORK CITY – June 13, 2006 – After two years of declines, smoking rates among New York City adults leveled off in 2005, the Department of Health and Mental Hygiene (DOHMH) reported today. Results from DOHMH's 2005 Community Health Survey showed that 18.9% of adults in New York City smoke, virtually identical to the rate of 18.4% in 2004. The rate of smoking decreased substantially between 2002 and 2004 (21.6% to 18.4%) following a decade of no progress in the fight against tobacco in New York City .
In 2002, New York City took two pioneering steps to reduce smoking: increased the tobacco tax and effectively eliminated smoking in the workplace, including restaurants and bars. These measures were followed by a dramatic decline in smoking prevalence. Despite aggressive efforts to educate smokers and help them quit, and continued high compliance with the Smoke-Free Air Act, smoking rates did not decline in 2005.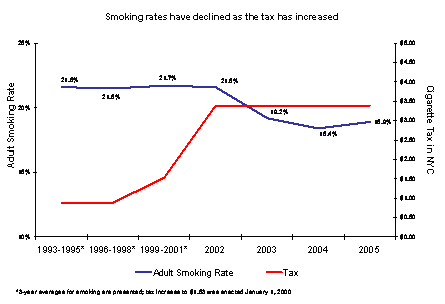 Increasing cigarette prices by raising the tobacco tax is the most effective way to continue making progress. The City does not currently have authority to raise the City tobacco tax and would need approval from New York State to do so. Legislation was introduced in the New York State Assembly in May 2006 that would authorize New York City to adopt a local law to increase the rate of tax on cigarettes. The additional $0.50 increase will continue to reduce cigarette consumption, and decrease long-term health costs associated with smoking-related illness and disease.
Polls have shown that New Yorkers overwhelmingly support raising the tax; about 70% New Yorkers are in favor of it and support cuts across ethnicities, gender, and political parties.
"While most New Yorkers who have ever smoked have already quit, more than a million New Yorkers continue to smoke. It is now more critical than ever that New York State grant New York City the authority to raise the City's tobacco tax," said DOHMH Commissioner Dr. Thomas R. Frieden. "Taxation is, by far, the single most effective tool against smoking, which is still the leading epidemic of our time. A fifty cent increase in the City's tobacco tax could prevent nearly 10,000 premature deaths due to smoking in New York City ."
Dr. Frieden continued, "Smoking causes heart disease and cancer – the top two killers in New York City – and many other serious health issues. If you smoke, quitting is the most important thing you can do for your health."
Tobacco Control in New York City
The Department of Health and Mental Hygiene (DOHMH) has implemented a five-point plan for tobacco control, based on proven strategies:
• Taxation : Advocate for and enforce cigarette tax increases to reduce tobacco consumption.
• Legal action : Enact, strengthen, and enforce tobacco-related laws. The Smoke-Free Air Act, which prohibits smoking in virtually all workplaces in the City, has been a major contributor to the decrease in smoking rates. Compliance has been high since the law went into effect in 2002, is currently at more than 99%.
• Cessation : Increase access to and utilization of cessation services, especially medicines, for smokers. Most smokers want to quit but don't get the services they need to succeed. DOHMH and its partners provide quit smoking services throughout the five boroughs. A DOHMH nicotine patch program distributed of 35,000 free courses of nicotine patches to New Yorkers in just over one month. The program ended on June 5, but help is still available through 311.
• Public Education : Educate the public and counter the tobacco industry's promotion of tobacco by using hard-hitting print, radio and television campaigns that promote messages on the dangers of smoking and the benefits of quitting.
• Evaluation and Monitoring : Collect and analyze data to track tobacco-related behaviors of New York City residents, and to assess the effectiveness of tobacco control programs.
To find out how you can quit smoking call 311 . For information about New York City 's tobacco control efforts and for other information on quitting smoking, please visit http://www.nyc.gov/html/doh/html/tcny/tcny02.shtml.
###
#046