NEW YORK CITY – June 5, 2006 – The Department of Health and Mental Hygiene (DOHMH) has distributed 35,000 nicotine patch kits, reaching nearly 1 out of every 15 of New York City 's heavy smokers as part of its latest nicotine patch program. The patch kits, each worth about $150 and provided at no cost, were made available to eligible New York City smokers who called 311 on a first-call, first-served basis. The program began on May 3, and was completed in 34 days, faster than in 2003, when it took six weeks to distribute the same number of kits.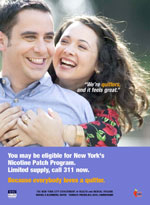 "Most New Yorkers who have ever smoked have already quit. And the overwhelming response to our nicotine patch program confirms that most New Yorkers who still smoke want to quit. Cessation treatment works," said DOHMH Commissioner Thomas R. Frieden, MD, MPH. "Through this program, more than 6% of all heavy smokers in the City got patches at no-cost. If the success of this program is similar to previous efforts, almost 4,000 premature deaths will be prevented."
"Smoking just a few cigarettes a day increases your risk of heart attack and stroke," Dr. Frieden continued. "In addition, second-hand smoke endangers the lives of those around you. If you smoke, quitting is the best thing you can do for your health. And even though our nicotine patch program has ended, there are still resources out there to help you stop smoking – for instance, through cessation clinics at our City's hospitals and services made available by New York State. Simply call 311 to find out how to get connected to these important resources."
Preliminary Data from DOHMH's 2006 Patch Distribution
DOHMH distributed 35,000 nicotine patch kits to eligible New Yorkers who called 311 . Overall, patches went to about 6.5% of the City's heavy smokers.
Distribution by borough:
• The Bronx led the way with 9% of that borough's heavy smokers receiving patches (about 6,700). Heavy smokers in Brooklyn and Queens each received 6% of patches (about 10,000 and 8,900 respectively). Manhattan heavy smokers received about 5% (5,300) patches and Staten Island heavy smokers received 5% (3,600) of patches.
• Brooklyn had the highest percentage of recipients, at 29%. Queens was a close second at 26%; the Bronx came in third at 19%, and Manhattan had about 15% of recipients. Staten Island, which has the highest prevalence rate of smokers in the City, totaled 12% of patch recipients.
Distribution by gender:
• More women (52% female to 48% male) received the patch. However, men are much more likely to be heavy smokers (57%) than women (43%). Approximately 8% of female heavy smokers got the patch, compared to 5% of male heavy smokers.
Distribution by age:
• The overwhelming majority of those who received patches fell into the 25-44 and 45-64 age groups (45% and 42% of the overall number distributed, respectively ). Heavy smokers aged 18-24 represent 10% of the city's heavy smokers, but only 6.6% of patch recipients. Similarly, heavy smokers age 65 and older comprise 8.6% of the city's heavy smokers, but only 6.4% of patch recipients.
Smokers who received the patches through the program are encouraged to return the postcard that was included with their first shipment for 2 additional weeks of NRT, if they feel they need more assistance.
Get Help Quitting from the City's Public Hospitals
Help is also available for smokers who do not meet eligibility criteria. T he New York City Health and Hospitals Corporation (HHC) continues to offer free or low-cost quit smoking services, including counseling and other resources, at more than a dozen sites. To find the location nearest you, see below, call 3-1-1, or log on to http://www.nyc.gov/html/hhc/html/community/smokingcessation.shtml. Last year, HHC's Smoking Cessation Clinics helped more than 20,000 smokers who wanted to quit.
HHC SMOKING CESSATION FACILITIES
THE BRONX

BROOKLYN

Segundo Ruiz Belvis Diagnostic & Treatment Ctr.
545 East 142nd Street
Coney Island Hospital
2601 Ocean Parkway
Jacobi Medical Center
1400 Pelham Parkway South
Kings County Hospital Center
451 Clarkson Avenue
Lincoln Medical and Mental Health Center
234 East 149th Street
Woodhull Medical and Mental Health Center
760 Broadway
Morrisania Diagnostic & Treatment Center
1228 Gerard Avenue

MANHATTAN

North Central Bronx Hospital
3424 Kossuth Avenue
Bellevue Hospital Center
462 First Avenue at 27th Street

QUEENS

Gouverneur Health Care Services
227 Madison Street
Elmhurst Hospital Center
79-01 Broadway
Harlem Hospital Center
Ronald Brown Pavillion Bldg
530 W 137th Street , 3 rd Fl.
Queens Hospital Center
82-70 164th Street
Metropolitan Hospital Center
1901 First Avenue at 97th Street
Other Smoking Cessation Services Available in New York City
DOHMH's Bureau of Tobacco Control maintains an online guide to "quit smoking" resources that are available for free or at nominal cost. For the complete resource guide, please visit http://www.nyc.gov/html/doh/html/smoke/smoke2-cess1.shtml .
###
#041