NEW YORK CITY – May 24, 2006 – With nearly 80% of nicotine patches gone, the City's Department of Health and Mental Hygiene (DOHMH) encourages New Yorkers who want to quit to call 3-1-1 today. Three weeks into its nicotine patch giveaway, more than 27,000 patch kits have been distributed to smokers in all five boroughs. Men continue to be underrepresented even though they comprise 57% of heavy smokers.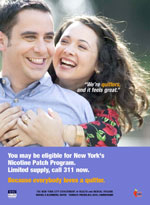 Luis Cheeseborough, a 56-year-old school teacher from Brooklyn, and a recipient of nicotine patches through the 2005 giveaway said, "As a school teacher, with children constantly telling me they were worried about my health, I wanted to quit smoking. But I didn't think I could. I wanted to stop and didn't know how. I heard about the 311 program and called. After using the patches for a couple of weeks, I didn't have the urge to smoke anymore. I haven't smoked for more than a year. Other smokers should call 311. If the patch worked for me, it can work for almost anyone."
Who's Been Getting the Patch So Far
Young adults (ages 18-24), who make up 10% of the City's heavy smokers, continue to represent 6% of calls. Most patches continue to go to New Yorkers ages 45-64 (44%) and 25-44 (43%).
Although men comprise of 57% of the City's heavy smokers, they represent just under half (48%) of all callers.
Most patches (42%) have been distributed to whites, followed by African-Americans (28%), Hispanics (24%) and Asian/Pacific Islanders (3%). For the most part, this still mirrors the distribution of the City's heaviest smokers, with the exception of Asians, who make up 9% of the City's heavy smokers.
Most patches have been distributed to Brooklyn residents (29%) followed by Queens (26%), Bronx (19%), Manhattan (15%) and Staten Island (11%).
"The positive response to this initiative shows that people want to stop smoking and be healthier," said Dr. Frieden. "However, men and young adults who comprise a large percentage of heavy smokers in the city are not adequately taking advantage of this opportunity. I urge men and young adults, and anyone who wants to quit smoking to call 311 now while supplies last."
For information about how to quit smoking, call 311 or log on to nyc.gov/health.
###
#036