NEW YORK CITY - May 16, 2006 - Less than two weeks after the launch of its nicotine patch giveaway, the city's Department of Health and Mental Hygiene (DOHMH) has distributed more than 21,000 patch kits to smokers in all five boroughs. With nearly two thirds of the 35,000 total patches gone in such a short period of time, New Yorkers who want to quit are encouraged to call 3-1-1 today. Tomorrow at 11:45 a.m., Health Commissioner Dr. Thomas Frieden will be on hand at 3-1-1 headquarters to take calls directly.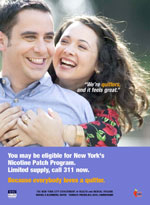 Who's Been Getting the Patch So Far
Young people (ages 18-24), who make up 10% of the City's heavy smokers, still only represent 5% of calls. Most patches have gone to New Yorkers ages 45-64 (44%) and 25-44 (43%).
Although men comprise 6 out of 10 of the City's heavy smokers, they represent just under half (48%) of all callers.
Most patches (43%) have been distributed to whites, followed by African-Americans (28%), Hispanics (23%) and Asian/Pacific Islanders (3%). For the most part, this still mirrors the distribution of the City's heaviest smokers, with the exception of Asians, who make up 9% of the City's heavy smokers.
Most patches have been distributed to Brooklyn residents (29%) followed by Queens (26%), Bronx (19%), Manhattan (15%) and Staten Island (11%).
For information about how to quit smoking, call 3-1-1 or log on to nyc.gov/health.
###
#035