NEW YORK CITY – May 4, 2006 – Two Staten Island raccoons have tested positive for rabies, the Department of Health and Mental Hygiene (DOHMH) reported today. There were no reported bites or exposures to the raccoons. The first raccoon was captured on April 4 in the Charleston area. A second raccoon captured on April 26 in Pleasant Plains indicated that rabies may be spreading among raccoons. DOHMH reminds New Yorkers to avoid contact with wild animals and to vaccinate their pets against rabies.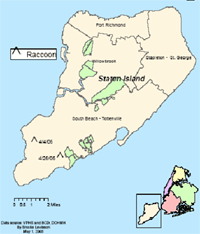 Rabies has occurred previously on Staten Island and other parts of New York City. From 1997 until last month, only one rabid raccoon had been identified on Staten Island. From 1992 to 1997, 62 rabid raccoons were found on the island. In recent years, rabid raccoons have been captured in the Bronx and Queens, as well as areas surrounding the City. Also, bats with rabies are occasionally identified in all five boroughs of New York City.
Information about Rabies
Rabies is most often transmitted through the bite or scratch of an infected animal or when saliva of the infected animal comes into contact with an open wound or mucous membrane (such as nose or mouth). Simple contact with a wild animal will not result in rabies.
Rabies is a viral infection that affects the nervous system. If preventive treatment is necessary – and is obtained promptly following exposure to a rabid animal – most cases of rabies in humans can be prevented. Treatment requires prompt washing of the bite site with soap and lots of water, followed by a series of shots (rabies vaccine) to prevent rabies. Untreated rabies infection is almost always fatal.
To protect yourself against rabies:
• Do not touch or feed wild animals, stray dogs or cats, or bats.
• Keep garbage in tightly sealed containers.
• Stay away from any animal that is behaving aggressively or a wild animal that appears ill or is acting unusually friendly. Call 311 to report animals that are displaying these or other unusual behaviors. Always call 911 in emergency situations.
• If a bat is found indoors and may have had contact with someone, do not release it. Call 311 to determine if the animal should be picked up for rabies testing. Information on how to safely capture a bat is available online through the New York State Department of Health at http://www.health.state.ny.us/diseases/communicable/zoonoses/rabies/batidx.htm.
To protect your pet against rabies:
• Make sure your dog or cat is up to date on its rabies vaccinations.
• Do not leave your pets outdoors unattended.
• If your pet has been in contact with an animal that might be rabid, contact your veterinarian.
• Feed pets indoors.
If you are bitten by an animal:
• Immediately wash the wound with lots of soap and water.
• Seek medical care from your health care provider or go to the emergency room.
• Call 311 to report the animal bite, and to determine if the animal should be picked up for rabies testing.
• If the animal is someone's pet, get the owner's name, address, and telephone number.
For more information on rabies, please visit http://www.nyc.gov/html/doh/html/cd/cdrab.shtml.
###
#030