NEW YORK CITY – May 3, 2006 – The New York City Department of Health and Mental Hygiene (DOHMH) is offering courses of nicotine replacement therapy (NRT) patches at no cost to the first 35,000 smokers Citywide who want to quit, Health Commissioner Dr. Thomas Frieden announced today. By calling 3-1-1, New York City residents can find out if they are eligible to receive the patch. Recipients must be 18 years or older and must meet other eligibility requirements. Patches will be available on a first-call, first-served basis to eligible New Yorkers. Joining Dr. Frieden at the 311 Citizen Service Center were Ron Bergmann, Acting Commissioner of the New York City Department of Information Technology and Telecommunications (DoITT), as well as former smokers.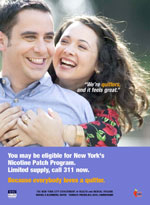 More than 1 million New Yorkers still smoke. Smoking remains the leading cause of preventable death in New York City, increasing the risk of not only many types of cancer, but also of stroke, heart attack, blindness, infant mortality, and many other health problems. A DOHMH TV and radio ad campaign (sponsored in part by New York State Health Department funded programs including NYC Coalition for a Smoke-Free City) will help promote this year's patch giveaway, one of several DOHMH efforts to help New Yorkers quit smoking.
"The nicotine patch can double the chances of quitting successfully," said DOHMH Commissioner Dr. Thomas R. Frieden. "Within 24 hours of quitting, your chance of heart attack drops. Within a month, your lungs start to repair themselves, reducing the chance of infection. And within a year, your risk of heart disease is cut in half. Simply call 3-1-1 to find out if you're eligible. Most people who have ever smoked have already quit, and we applaud those who are taking this safe and effective step to better health."
"We are pleased to participate in this important initiative with the New York City Department of Health and Mental Hygiene, and encourage New Yorkers to call 3-1-1 and take advantage of this opportunity," said DoITT Acting Commissioner Bergmann. "Call Center representatives are available 24/7 and can initiate requests for the patch in over 170 languages."
John Eddie of Staten Island – who quit smoking using the patch five months ago – said, "I've always known smoking wasn't good for me. I am active in the community – I referee basketball, and I didn't have any stamina or endurance, and was always out of breath. I wanted to improve my health."
What You Get If You're Eligible
Eligible smokers will receive the following in the mail:
• 4 weeks of NRT patches in the mail, with the option to receive an additional 2 weeks
• Instructions on how to use the nicotine patch
• DOHMH literature on how to quit smoking
DOHMH may also contact program participants by phone or email after they receive their nicotine patches to offer support and advice on stopping smoking.
Get Help Quitting from the City's Public Hospitals
Help is also available for smokers who do not meet eligibility criteria. T he New York City Health and Hospitals Corporation (HHC) continues to offer free or low-cost quit smoking services, including counseling and other resources, at more than a dozen sites. To find the location nearest you, see below, call 3-1-1, or log on to http://www.nyc.gov/html/hhc/html/community/smokingcessation.shtml. Last year, HHC's Smoking Cessation Clinics helped more than 20,000 smokers who wanted to quit.
HHC SMOKING CESSATION FACILITIES
THE BRONX

BROOKLYN

Segundo Ruiz Belvis Diagnostic & Treatment Ctr.
545 East 142nd Street
Coney Island Hospital
2601 Ocean Parkway
Jacobi Medical Center
1400 Pelham Parkway South
Kings County Hospital Center
451 Clarkson Avenue
Lincoln Medical and Mental Health Center
234 East 149th Street
Woodhull Medical and Mental Health Center
760 Broadway
Morrisania Diagnostic & Treatment Center
1228 Gerard Avenue

MANHATTAN

North Central Bronx Hospital
3424 Kossuth Avenue
Bellevue Hospital Center
462 First Avenue at 27th Street

QUEENS

Gouverneur Health Care Services
227 Madison Street
Elmhurst Hospital Center
79-01 Broadway
Harlem Hospital Center
Ronald Brown Pavillion Bldg
530 W 137th Street , 3 rd Fl.
Queens Hospital Center
82-70 164th Street
Metropolitan Hospital Center
1901 First Avenue at 97th Street
Other Smoking Cessation Services Available in New York City
DOHMH's Bureau of Tobacco Control maintains an online guide to "quit smoking" resources that are available for free or at nominal cost. For the complete resource guide, please visit http://www.nyc.gov/html/doh/html/smoke/smoke2-cess1.shtml.
###
#029