NEW YORK CITY – April 13, 2006 – In a new public awareness campaign, New Yorkers are encouraged to ask their doctor about a simple test for depression. The New York City Department of Health and Mental Hygiene (DOHMH) is also visiting over 1500 primary care providers and their clinical staff to encourage them to make depression screening routine and provide them with a screening tool called the Patient Health Questionnaire (PHQ) – a simple test to determine whether someone may be experiencing depression.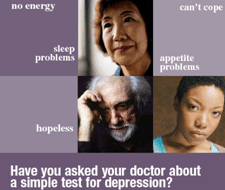 One in four women and one in ten men will suffer from a major depressive episode during their lifetime. DOHMH's campaign is targeted to neighborhoods with the highest rates of depression, including North and Central Brooklyn, Harlem, and the South Bronx, where about 16% of New Yorkers experienced frequent mental distress in 2005. Campaign posters which highlight symptoms of depression – sadness, difficulty concentrating, lack of energy, sleeping problems, and appetite problems – will run in English and Spanish in subways, buses, and check cashing outlets in these neighborhoods.
Earlier this week, DOHMH reported that nearly 1 in 7 adults (13%) citywide reported frequent mental distress, compared with approximately 1 in 10 adults in New York State and the nation. Three quarters of a million New York City adults reported experiencing frequent mental distress last year.
"Depression is terribly under diagnosed and under treated in New York City," said Dr. Lloyd I. Sederer, DOHMH's Executive Deputy Commissioner for Mental Hygiene Services. "Depression screening should be a routine part of medical care. A test for depression is as important to your health as a blood pressure test or cancer screening. New Yorkers who may be experiencing symptoms of depression, such as feeling hopeless or having little interest in doing things, should talk to their doctor or call 311 and ask for LIFENET. Depression is treatable – medication, counseling, and taking care of yourself with physical activity and other wellness efforts can help."
The PHQ begins by asking a patient if over the past 2 weeks, he or she has often been bothered by:
Little interest or pleasure in doing things?
Feeling down, depressed, or hopeless?
If a patient answers "yes" to either question during a primary care visit he or she may be depressed and should have an evaluation by the doctor to determine if the cause is depression, and to provide treatment or refer to a specialist, if needed.

Depression is a real; it a serious illness that can be life-threatening. Primary care physicians can play a crucial role in diagnosis and treatment of depression, as they do for heart disease, diabetes, asthma and other health conditions. Among older patients who committed suicide, 20% visited their primary care physician on the same day as their suicide, 40% within the past week, and 70% within the past month.

Depression screening is simple. New Yorkers can:
Call 1-800-LIFENET or call 311 and ask for LifeNet, 24 hours a day
Talk to their regular doctor about a depression screening
Tips for Managing Depression:
Get physical activity to improve mood and manage stress
Keep it simple. Set simple goals and take small steps to reach them
Do something you enjoy every day. Find ways to relax
Spend time with people who can support you
Keep medical appointments and take all medications as prescribed
Get Help for Depression – a Take Care New York Priority
Getting help for depression is one of the 10 priorities of Take Care New York – the City's health policy. Depression is a serious public health issue and affects relationships at work or school and with family and friends. Untreated depression can tragically lead to disability and suicide.
Older people with medical illnesses, people with alcohol and drug addictions, and people with a family history of depression are at highest risk for depression. Alcohol and other substance abuse can make depression worse. Depression also aggravates many medical conditions, such as diabetes and arthritis, making those conditions less responsive to treatment.
To find out more about getting screened for depression, call 311 and ask for LIFENET. The Mental Health Association of New York City operates LIFENET under a contract with DOHMH, which provides information and referral services, and is available in English 1-800-LIFENET (1-800-543-3638), Spanish (1-877-AYUDESE; 1-877-298-3373), and Chinese (1-877-990-8585). For other languages, New Yorkers can call LIFENET and ask for a translator. The TTY number for LIFENET is (212) 982-5284.
For more information on depression, please visit http://www.nyc.gov/html/doh/html/dmh/depress.shtml.
###