NEW YORK CITY – April 5, 2006 – One in four young children is obese and more than 40% are obese or overweight in New York City Head Start programs, according to a report released today by the New York City Department of Health and Mental Hygiene (DOHMH) and the Administration for Children's Services (ACS). The full Obesity in Early Childhood report is available online at http://www.nyc.gov/html/doh/downloads/pdf/survey/survey-2006childobesity.pdf.
DOHMH and ACS reviewed records of 16,000 children – nearly 90% of children enrolled in ACS/Head Start programs. Hispanic and African-American children are more than twice as likely to be obese as white children. Additionally, obesity increases as children get older, from 24% at age 2 to 29% by age 4. Head Start is a federally funded comprehensive child development program for preschool children and families living below the poverty line across the City.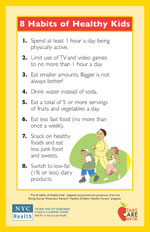 "The obesity epidemic begins early," said Health Commissioner Thomas R. Frieden, M.D., M.P.H. "At ages two and three, more than 40% of kids are already at an unhealthy weight. As a society, we have a responsibility to give our kids a healthier start. By creating healthy environments in which kids move more and eat less, we can prevent diabetes, heart disease, asthma, depression, and other serious health problems. Breastfeeding is best for a baby's health and a mother's health, too. Breastfed babies are less likely to be overweight, to have asthma, ear infections, allergies, and diabetes."
"These findings should motivate all of us - families, schools, and child care programs - to help families keep their children healthy," said Children's Services Commissioner John B. Mattingly. "All parents should make it a priority to begin healthy living habits as a family, especially in the earliest years of their children. A child will become a healthy adult by remaining physically active, spending less time in front of the television and more time engaged in learning - and by eating a nutritious and well-balanced diet."
New York City is taking steps to address obesity in children:
DOHMH has proposed changes to the New York City Health Code that would mandate increases in physical activity and improve nutrition in day care centers. These changes will help create healthier environments for young children.
DOHMH and the Department of Education have worked together to train more than 2,000 day care providers and early childhood teachers in the SPARK program (Sport, Play and Active Recreation for Kids), which provides skills for teachers to incorporate physical activity into childhood education. SPARK-trained teachers have the potential to reach approximately 30,000 children at day care centers and school-based pre-K classes citywide.
More than 600,000 "Helping Children Reach a Healthy Weight" booklets and magnets were distributed to parents this school year. The booklet contains tips for increasing physical activity and improving nutrition. The brochure is available online in English and Spanish by visiting http://www.nyc.gov/html/doh/html/cdp/cdp-obesity.shtml.
DOHMH, American Heart Association, American Diabetes Association, and other members of the Youth Health Coalition are hosting Fit Kids NYC, a conference on how to make exercise and healthier eating a fun part of everyday life. The event, on April 29, 2006, is open to children and parents.
"Children become overweight when they consume more calories than they use," said Candace Young, DOHMH's Director of Physical Activity and Nutrition and lead author of the study. "Caregivers and teachers can help create healthier environments for young children. Children should get at least one hour of physical activity a day. By turning off the TV and videos, young children will naturally want to move and play. Preschoolers should not drink beverages with added sugar, and even juice should be limited to 6 ounces a day. When a child is thirsty, water is best."
Tips for parents, families and teachers to help children reach a healthy weight:
Physical Activity:
Children should spend at least 1 hour a day being physically active.
Limit children to no more than 1 hour a day of TV and video games; children under age 2 should not watch TV.
Healthy Eating:
Serve children smaller portions appropriate for their age.
Children ages 1 to 6 should drink ONLY water, milk and 100% fruit juice, and no soda or beverages with added sugar; limit juice 6 ounces per day, and switch to 1% milk and low-fat dairy products for children age 2 and older.
Prepare more healthy meals at home and offer children fruits and vegetables at every meal and snack.
Children should eat less junk food, sweets, and fast food (no more than once a week).
Don't eat while watching TV.
To obtain a "Helping Children Reach a Healthy Weight" booklet or a copy of this Vital Signs report, call 311. For more information on maintaining a healthy weight, please visit http://www.nyc.gov/html/doh/html/cdp/cdp-obesity.shtml. To read the full report online, please visit http://www.nyc.gov/html/doh/downloads/pdf/survey/survey-2006childobesity.pdf.
###
#020