NEW YORK CITY – April 3, 2006 – The New York City Department of Health and Mental Hygiene (DOHMH) and Bristol-Myers Squibb today unveiled a new campaign to raise awareness about hypertension (high blood pressure), a leading cause of heart disease and stroke in New York City. As part of DOHMH's overall effort to encourage blood pressure management and control, the campaign will extend awareness messages through Citywide signage and mailings. Joining DOHMH Commissioner Dr. Thomas R. Frieden for today's announcement were Dr. Sharon Henry, Vice President of Medical Services and External Affairs at Bristol-Myers Squibb, as well as Michael Weamer, Executive Vice President of the American Heart Association; Pastor Brian Carter, President of the Brooklyn Ecumenical Advisory Group; and leaders from the faith community. Next month marks National Hypertension Awareness Month.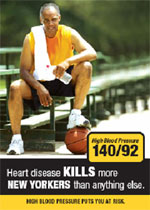 One in four adult New Yorkers report having high blood pressure, and hundreds of thousands who are unaware of their blood pressure levels do not know they are at serious risk for stroke and heart disease, which kills more New Yorkers than anything else. People of color are more likely than other groups to have high blood pressure. In addition, more than one in three adults in New York who report having hypertension say they do not take medication to treat it. Almost one third of the people who died from cardio-vascular disease (heart disease and stroke) in 2004 were under the age of 75.
"High blood pressure puts you at high risk," said Dr. Frieden. "Uncontrolled hypertension dramatically increases the risk of heart attack, stroke and death. In 2004, 25,000 New Yorkers died from heart disease or stroke. Because there are usually no symptoms, the only way to know you have high blood pressure is to get checked regularly. Losing even a few pounds, reducing salt in your diet and increasing physical activity can significantly reduce these problems. Medications to lower blood pressure are safe and effective. The key is to know your blood pressure and take action. We are grateful to Bristol-Myers Squibb for supporting a critical health message for New Yorkers."
"This campaign will help educate New Yorkers about the risk of high blood pressure and encourage communication between people at risk and their healthcare professionals, since it is critical that people get the testing and intervention they need to stay healthy," said Dr. Henry. "Bristol-Myers Squibb commends the New York City Department of Health and Mental Hygiene for its continued efforts to improve the health of all New Yorkers, and we are proud to partner with the City to help raise awareness about this important health issue."
"We are happy to see that this issue has been brought to the forefront," said Pastor Carter. "Too many people have lost their lives because of a condition that can be treated and prevented. The faith community joins the New York City Department of Health and Mental Hygiene in delivering the message to monitor blood pressure. Together we can change attitudes, help people to reevaluate their lives and bring about the transformations necessary to improve their quality of life. We are committed to the continued success of lowering blood pressure for all New Yorkers."
Campaign posters in English and Spanish began appearing this week in subways, telephone kiosks and check cashing offices. In the ads, New Yorkers of various ages, ethnicities and physical types appear with their blood pressure numbers highlighted in bold colors, to represent the diversity of those at risk. Mailings will also sent be faith-based leaders for display in their institutions. The goal is to encourage all adult New Yorkers to get checked to know their blood pressure and keep it under control.
DOHMH is taking many other steps to educate New Yorkers about healthy blood pressure. Through the Public Health Detailing Program, DOHMH representatives visit doctors, physician assistants, nurse practitioners, nurses and administrators in the City's highest-risk neighborhoods to promote awareness of hypertension and other health issues. Every medical provider receives a "Detailing Action Kit," containing guidance tools, resources for providers and patient education materials to promote evidence-based best practices. Other campaigns have focused on colon cancer screening, smoking cessation, asthma, diabetes, contraception and depression screening.
Risk Factors for Hypertension
Several factors and conditions contribute to hypertension, such as too much salt in the diet; being overweight; having poorly controlled diabetes; excessive alcohol consumption; and older age. African Americans are more likely than other groups to have high blood pressure. For smokers, women who are pregnant, people with diabetes, and those with a prior history of heart disease or stroke, having hypertension is a particularly dangerous combination.
Keep Your Heart Healthy
Know your numbers

High blood pressure and high cholesterol usually have no symptoms.
It is crucial to get screened regularly.
Optimal blood pressure is below 120/80.
Desirable cholesterol levels are below 200 total. Optimal HDL ("good") cholesterol levels should be above 60, and LDL ("bad") cholesterol levels should be below 100.
Talk to your doctor about the levels that are right for you.

Exercise regularly

Make time for at least 30 minutes of moderate-to-vigorous physical activity (such as a brisk walk) at least 4 days a week.
Incorporate more physical activity into your day. Take several flights of stairs instead of the elevator whenever you can. Get off the subway or bus one stop early. Walk to a bus stop a few blocks away. Walk briskly instead of strolling.

Make your diet heart-healthy
Maintain a healthy weight

If you are overweight, losing as little as 10 pounds can lower your blood pressure.
Reaching a healthy weight will improve your overall health even if your blood pressure doesn't reduce dramatically.

If you smoke, quit now

If you have high blood pressure and smoke, you more than double your risk of a heart attack.
For information on getting your blood pressure checked, please visit nyc.gov/health or call 311.
###
#019