NEW YORK CITY – March 23, 2006 – Tuberculosis (TB) in New York City is at a historic low with 989 cases reported in 2005, a 5% drop from the previous year and a 74% overall decrease in cases from the peak of the most recent epidemic in 1992 according to preliminary data from the Department of Health and Mental Hygiene (DOHMH). Foreign-born New Yorkers continue to be disproportionately affected, accounting for 70% (689) of new TB cases with a rate per 100,000 persons of 24.0 compared to 5.7 for U.S.-born. New York City's TB rate (12.3) remains more than twice the national rate (4.8).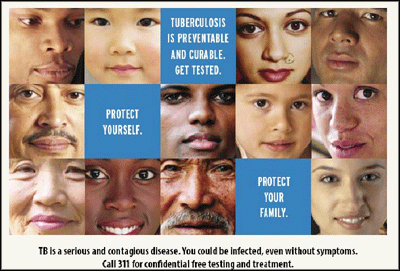 World TB Day 2006 Breakfast Event
Friday, March 24, 2006
Nice Restaurant
35 East Broadway
(between Catherine & Market Sts.)
9:30 – 11:30 am
Health officials unveiled a new multilingual TB campaign, "Tuberculosis is preventable and curable. Get tested." A print advertisement will run in nine languages (English, Spanish, Bengali, Chinese, Haitian-Creole, Korean, Urdu, Gujarati, and Punjabi) and an outdoor campaign will appear in five languages (English, Spanish, Korean, Haitian-Creole, Chinese). Tomorrow, on World TB Day, DOHMH will hold a breakfast in lower Manhattan to acknowledge health care providers, community organizations and leaders for their work to prevent and control tuberculosis.
Rate of Tuberculosis (per 100,000) by Ethnicity for NYC, 2005

 

Black

Hispanic

Asian

White

15.7

12.8

35.9

3.4
Foreign-born individuals make up more than two thirds of new TB cases in New York City, with 689 (70%) of 989 cases reported in 2005. Of foreign-born individuals diagnosed with TB in 2005, the most common countries of origin have been China (including the People's Republic of China, Taiwan and Hong Kong (118)), Ecuador (68), Dominican Republic (36), Haiti (48), Mexico (40) and India (40).
"We have made significant progress in the fight against tuberculosis but more remains to be done," said Health Commissioner Dr. Thomas R. Frieden. "Disparities persist and we need to do a better job of reaching foreign-born New Yorkers to let them know that TB is preventable and curable. The Health Department offers free TB screening and treatment in 10 state-of-the-art clinics in all 5 boroughs. With continuous efforts to educate and offer treatment as well as the collaboration of committed organizations and TB care providers we can stop tuberculosis in New York City."
DOHMH is working with several partners including the Center for Immigrant Health, Charles B. Wang Community Health Center, Elmhurst Hospital Center, Brownsville Multi-Service Family Health Center, Kings County Hospital, Astro Medical Care, Charles P. Felton National TB Center, Department of Homeless Services, and Correctional Health Services among others in order to provide community education through health fairs and other community based events. In addition, DOHMH distributes educational materials and holds medical talks for health care providers.
"While New York City has come a long way in reaching the lowest number of TB cases to date, the foreign-born population continues to be disproportionately affected," said Dr. Sonal Munsiff, Assistant Commissioner for the Bureau of TB Control. "Neighborhoods in the City that have the largest immigrant populations from countries with high TB rates continue to have the highest TB rates. We will keep on working closely with immigrant communities to inform them that the Health Department offers TB screening and treatment that is free, confidential and irrespective of immigration status."
NYC TB Rates by Borough, 2000 – 2005
While the citywide TB case rate has decreased to 12.3 per 100,000 from 13.0 in 2004, TB case rates for Brooklyn and Queens are higher than citywide. These boroughs also have the largest foreign-born populations.
Tuberculosis Cases (Number, Rate per 100,000) by New York City Borough, 2000 - 2005
| | | | | | | |
| --- | --- | --- | --- | --- | --- | --- |
| Year | Manhattan | Brooklyn | Bronx | Queens | Staten Island | NYC |
| 2000 | 274 (17.8) | 446 (18.1) | 215 (16.1) | 365 (16.4) | 32 (7.2) | 1,332 (16.6) |
| 2001 | 256 (16.7) | 390 (15.8) | 170 (12.8) | 418 (18.7) | 27 (6.1) | 1,261 (15.7) |
| 2002 | 227 (14.8) | 345 (14.0) | 165 (12.4) | 322 (14.4) | 25 (5.6) | 1,084 (13.5) |
| 2003 | 240 (15.6) | 362 (14.7) | 178 (13.4) | 331 (14.8) | 29 (6.5) | 1,140 (14.2) |
| 2004* | 198 (12.9) | 314 (12.7) | 176 (13.2) | 320 (14.4) | 28 (6.3) | 1,039 (13.0) |
| 2005 | 183 (11.8) | 323 (13.2) | 159 (11.9) | 305 (13.8) | 19 (4.2) | 989 (12.3) |

*Three cases have no assigned borough.
Other Tuberculosis Trends in New York City
Slight Increase in Multi-drug resistant (MDR) TB. There were 24 cases of MDRTB reported in 2005, a slight increase from the 18 cases reported in 2004. This is not believed to be a trend as several cases were related to one outbreak. MDRTB patients require a more lengthy treatment regimen, taking approximately 18-24 months to complete treatment compared to approximately six months for those with drug-susceptible TB.
HIV-related TB down slightly. There were 150 cases of TB reported who were also found to be infected with HIV in 2005. This is down slightly from the 169 co-infections reported in 2004. Co-infected patients are more difficult to treat because of complex drug interactions between TB and HIV medicines.
Directly-Observed Therapy(DOT). DOHMH continues to administer DOT, in which a trained health worker observes every dose of TB medication that a patient takes. About 88% of infectious patients who received outpatient TB treatment were on DOT, an increase from 80% in 2004. DOT ensures that patients complete treatment, preventing the development and spread of drug-resistant TB and stopping the chain of TB transmission.
Latent TB Infection (LTBI). In addition to cases of active TB, tens of thousands more harbor latent (inactive) TB infection. In 2005, about 30,000 persons were screened for tuberculosis at the DOHMH chest centers and over 5,000 high risk patients found to have LTBI were started on treatment to prevent TB disease.
Additionally, 4,318 contacts of the active cases of 2005 were evaluated. Of these, 1,257 contacts were identified with LTBI and most started on treatment for their latent infection. Many healthy people have LTBI, and most of them never get sick. However, many may develop active TB as they age or as they develop other medical conditions.
DOHMH TB Chest Centers
DOHMH has ten tuberculosis Chest Centers located throughout the City, all of which offer state-of-the-art TB screening and treatment. Clinics are open at convenient hours, and some are even open evenings and on Saturdays. DOHMH employees speak many languages, the services are free and provided irrespective of immigration status. A complete list of Chest Center locations appears below, and is available online at nyc.gov/health. New Yorkers can also call 311 to ask for information about tuberculosis and for clinics locations.
Information about Tuberculosis
Tuberculosis is preventable and curable. TB is transmitted by breathing in bacteria in the air that is contaminated by someone with active TB disease in the lungs, and usually requires prolonged exposure in enclosed settings. TB is not spread through casual contact, and cannot be acquired from sharing objects such as utensils or drinking glasses. For more information about TB, visit nyc.gov/health.

###
#018