NEW YORK CITY – January 19, 2006 – Bodega owners in Central Brooklyn, South Bronx, and Harlem have teamed up with the Department of Health and Mental Hygiene (DOHMH) and will be offering 1% milk to customers beginning this week. Over the next several months, participating bodega owners have agreed to stock 1% milk, offer discounts, display DOHMH educational posters, and distribute health information to customers. The pilot project starts with approximately fifteen bodegas in these three neighborhoods, which have less access to healthier food options and higher rates of illness and death compared with the rest of the City.
A DOHMH survey on the availability of healthier food in central Brooklyn – the results of which are similar for the South Bronx and Harlem – found that bodegas represent more than 80% of food sources for the community, but that healthy food choices are not typically available. Only 1 in 3 bodegas in Central Brooklyn sell reduced-fat milk and other healthier foods like fresh fruits. The report is available online at http://www.nyc.gov/html/doh/downloads/pdf/dpho/dpho-brooklyn-report2006.pdf. DOHMH worked with the Bodega Association of the United States to form partnerships with several bodega owners to pilot the project and examine sales trends over the next several months. If the program is successful, DOHMH may expand the program to include more bodegas and other healthier products.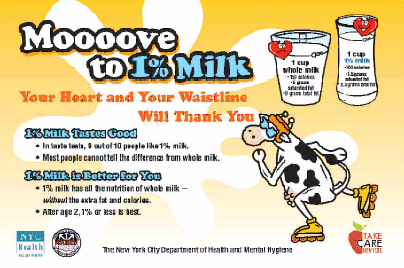 DOHMH Commissioner Thomas R. Frieden, MD, MPH, said "Bodegas are essential food providers in our communities, but healthy options are often unavailable. Other than people with rare medical problems, everyone over age 2 should drink low-fat milk - 1% or skim. 1% milk has less fat and calories, but all the essential nutrients. Cutting down on unnecessary calories and saturated fat can prevent diabetes, heart disease, and other serious health problems. Most people want to be healthier, and even small lifestyle changes - like switching to 1% milk, eating more fruits and vegetables and increasing physical activity - can make a big difference over the long-term."
"In many neighborhoods, New Yorkers shop for food at bodegas, rather than at larger supermarkets," said Lynn Silver, Assistant Commissioner for Chronic Disease Prevention and Control. "Milk is a product that bodegas already sell and switching to 1% is a small and easy step New Yorkers can take to be healthier. This initiative is particularly important for kids as w hole milk accounts for almost half of children's saturated fat intake."
In addition to providing bilingual posters and educational postcards on the benefits of 1% milk to participating bodegas, materials will be available at DOHMH district offices and Special Supplemental Nutrition Program for Women, Infants, and Children (WIC) offices in the three pilot neighborhoods. Information distribution is being coordinated through the DOHMH's three District Public Health Offices, which serve these communities.
Obesity and diabetes are epidemic in New York City
About 18% of adults and 24% of school children are obese in New York City , and diabetes rates have doubled in the past decade. Healthy eating habits and increased physical activity are key ways to fight these epidemics. 1% milk has 33% less calories than whole milk and 75% less fat and saturated fat. Cutting calories and fat helps reduce the risk of chronic health problems.
Moooove to 1% Milk Project Partners
Central Brooklyn
South Bronx
Harlem
544 Throop Ave
Brooklyn, NY 11221
615 E. Tremont
Bronx , NY
1858 Lexington Ave.
New York , NY 10029
299 Halsey St.
Brooklyn , NY 11216
1882 Crotona Ave.
Bronx , NY 10457
1861 Lexington Ave.
New York , NY 10029
377 Hancock St
Brooklyn , NY 11216
1959 Clinton Ave.
Bronx , NY 10457
1403 5th Ave.
New York , NY 10029
328 Marcus Garvey Blvd.
Brooklyn , NY 11221
1976 Arthur Ave.
Bronx , NY 10457
2141 3rd Ave.
New York , NY 10035
418 Jefferson Ave.,
Brooklyn , NY 11221
1814 Crotona Ave.
Bronx , NY 10457
 
For more information on choosing healthier foods, please visit http://www.nyc.gov/html/doh/html/nut/nutfoods.shtml.
###
#005