NEW YORK CITY - December 12, 2005 - To increase flu vaccination rates in central Brooklyn, where rates have been historically low, health and community leaders joined today to promote no-cost vaccinations at Kings County Hospital and other area clinics. Health Commissioner Dr. Thomas R. Frieden, along with Brooklyn Deputy Borough President Yvonne Graham, Pastor Brian Carter and Dr. Dexter McKenzie, urged all New Yorkers - especially those over 50 or with chronic medical conditions - to get a flu shot this year.
"Flu shots save lives," said Dr. Frieden. "Every year, thousands of New Yorkers get the flu and as many as 2,600 die from it. Most of these deaths are preventable with a simple, safe flu shot. But in central Brooklyn, half of people over the age of 50 were not vaccinated last year. Flu vaccination is crucial not only for every individual, but also for the health of the community. I would like to thank our community leaders for promoting this critical initiative to keep Brooklyn residents healthy."
In 2003-2004 season, only 65% of New Yorkers (age 65 or older) received flu shots. By ethnicity, Asian adults had the highest vaccination rates (87%), followed by whites (67%), Hispanics (57%) and African Americans (55%). While flu vaccination rates fluctuate in Brooklyn, rates for central Brooklyn are consistently among the lowest (see table at right).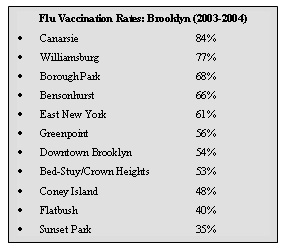 The New York City Department of Health and Mental Hygiene (DOHMH) continues to provide flu shots at five walk-in clinics in all five boroughs. The Health and Hospitals Corporation (HHC) also offers no-cost vaccinations in all of its facilities, including King's County Hospital.
"There is a critical need in our community for protection against an outbreak of the flu this winter," said Deputy Borough President Graham. "All walk-in patients for influenza vaccine will be accepted, and I urge all residents to take advantage as soon as they can." "As a member of the faith community and the senior pastor at the Brooklyn Temple Seventh-Day Adventist Church, I am concerned about the health of our community," said Pastor Brian Carter, President of the Brooklyn Ecumenical Advisory Group. "We have been working with the Department of Health and Mental Hygiene to get the word out concerning the flu shot. More needs to be done to address flu shot myths held by many community members. The shot does not cause the flu."
"The adage that 'an ounce of prevention is worth a pound of cure' is alive and well," said Dr. Dexter McKenzie, MD. "This is why I'm excited about the prospect of no-cost flu shots. Having our elected officials and medical officers receive flu shots today is equally important: It's about education, knowledge and taking tangible, physical steps so that the community can see its leaders are involved. I will be getting a flu shot on Monday, and I will be bringing my parents. We have to remind people that they cannot be led and dictated by fear. We need knowledge to empower ourselves, and I'm pleased that Commissioner Frieden, King's County Hospital and our community leaders are working with us to empower Central Brooklyn."
Who Should Get a Flu Shot
People age 50 and older
Children age 6 to 23 months
Residents of nursing homes and other long-term-care facilities
Pregnant women
Persons age 6 months and older with long-term health problems, such as: diabetes; lung disease, including asthma; heart disease; kidney disease; sickle cell anemia; immune system problems (including people with HIV/AIDS, and those being treated for cancer or taking high-dose steroids); conditions that can cause breathing problems (such as cognitive dysfunction, spinal cord injuries, seizure disorders, or other neuromuscular disorders); children age 6 months to 18 years on long-term aspirin therapy;
Caregivers and household members of all people listed above, especially those in contact with infants younger than 6 months (babies this age can get the flu, but are too young for a flu shot).
Health care workers
Help Stop the Spread of Flu and Other Infections
Get a flu shot every year as soon as you can. Also, you can reduce respiratory infections year-round:
Stay home when you're sick with fever and cough.
Cover coughs and sneezes.
Wash hands often with soap and water or an alcohol-based solution.
************************************************************
FLU SHOT LOCATIONS IN CENTRAL BROOKLYN
Kings County Hospital Center
451 Clarkson Ave

Medical Clinic:
U Building, 1st Fl
(718) 245-3422
Mon. - Fri.: 8 A.M. to 12 noon
Adult patients only

Adult Walk-in Clinic:
U Building, 1st Fl
(718) 245-3362
Mon. - Fri.: 12 noon to 6 P.M.
Adult patients only

Pediatric Clinic:
A Building, Ground Fl.
(718) 245- 2983
Mon. - Fri.: 8 A.M. to 4:30 P.M.
Pediatric patients only

Bedford Health Center (DOHMH)
485 Throop Avenue
(646) 253-5700
9:30 A.M. to 2:20 P.M. (Wednesday, December 14 only)
Adult patients only

Flatbush Health Center
630 Flatbush Avenue
(718) 462-0656
Mon.: 8 A.M. to 7 P.M.
Tues.- Fri.: 8 A.M. to 5:30 P.M.
Adult and pediatric patients

Fifth Avenue Women's and Children Health Center
503 Fifth Avenue
(718) 768-4081
Mon.,Tues., Weds. & Fri.: 8 A.M. to 4 P.M.
Thurs.: 11 A.M. to 7 P.M.
Adults and pediatric patients
For a full list of locations where you can get a flu shot, go to http://www.nyc.gov/health/flu. For a list of DOHMH flu shot clinics, please visit http://www.nyc.gov/html/doh/html/imm/immclin.shtm. Flu shots are offered through March. No appointment is necessary; persons will be seen on a first come first served basis. Children between the ages of 4 and 18 years must be accompanied by a parent or guardian or have a signed consent from the guardian. DOHMH clinics are closed on City observed holidays. Call 311 for further information about available vaccination services.
###
#122