NEW YORK CITY – August 10, 2005 – The New York City Department of Health and Mental Hygiene (DOHMH) today asked City restaurateurs and food suppliers to voluntarily make an oil change by eliminating partially hydrogenated vegetable oils from the kitchen. Partially hydrogenated vegetable oils have been chemically modified and contain relatively high levels of trans fat, which significantly increases risk of heart disease, the City's top cause of death. Commercial vegetable oils used by restaurants for cooking, frying, and baking often contain trans fat, as do many margarines, shortening, and pre-fried foods, baked goods and snack foods.
DOHMH is announcing this new educational initiative following recently released federal dietary guidelines, which recommend that consumers keep their trans fat intake as low as possible. While many nutrition labels already indicate trans fat content, the federal Food and Drug Administration (FDA) is requiring that trans fat content be listed on all nutrition labels starting January 1, 2006.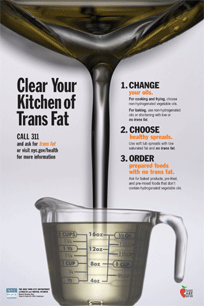 DOHMH Commissioner Dr. Thomas R. Frieden said, "New York City's restaurants are the best in the world but they can be even healthier. Trans fat is artificially added to the foods we eat and is easily removed. To help combat heart disease, the number one killer in New York City, we are asking restaurants to voluntarily make an oil change and remove artificial trans fat from their kitchens. We are also urging food suppliers to provide products that are trans fat free."
Robert Eckel, MD, President of the American Heart Association, said, "Heart disease is the leading cause of death and disability in the nation. Trans fat increases the risk of heart disease risk because it raises total cholesterol and bad cholesterol (LDL), and lowers good (HDL) cholesterol. Similar to saturated fat which we get from meat and dairy fat, eating high levels of trans fats can increase the risk of developing heart disease, and this initiative, combined with efforts to reduce saturated fat, are essential ingredients for good heart health."
E. Charles Hunt, Executive Vice President of the New York State Restaurant Association, said, "New York City is world renowned for our culinary diversity. Working together to reduce trans fat from our kitchens will be one more way to ensure an enjoyable and healthy experience for the City's 8 million residents and the millions more who visit every year."
Preliminary results from a sample of New York City restaurants found that 30% of restaurants used oils or fats known to contain partially hydrogenated vegetable oil for cooking or frying, or in spreads, such as margarine. As part of its educational push beginning this month, the Health Department is sending out letters and an information bulletin to more than 20,000 restaurants and 14,000 supermarkets and food suppliers to alert them to the dangers of trans fat, how to identify it, and how to replace trans fat with healthier options in the kitchen.

Sonia Angell, MD, MPH, Director of DOHMH's Cardiovascular Disease Prevention and Control program said, "Because many commercial products are not required to indicate trans fat content on the label, many restaurateurs and food suppliers may not know they are using oils with trans fat. Restaurant owners should look for the words 'partially hydrogenated' in the ingredients list to know what ingredients are going into their food."
Quotes from Restaurant Owners and Chefs
Junior's owner Alan Rosen, who uses trans fat free oil in his kitchen, said "We use trans fat free oil in our kitchen and are moving toward increasing the low trans fat options on our menu. We think New Yorkers deserve to have healthy options, which is why we have more than 300 items to choose from on our menu."
Arthur Gregory, owner of A & M Roadhouse in lower Manhattan said, "We've been cooking with trans fat free oils in our kitchen for many years. Food prepared with trans fat-free oil tastes just as good, has a cleaner fresher taste and doesn't cost any more."
Executive Chef Joseph Barbosa, consultant to Bronx Healthy Hearts – a community organization that works with schools and restaurants to promote heart health – said, "You don't have to cook with a lot of extra oils and fats to get flavor out of food.."
Information for Restaurateurs
Commercial vegetable oils, sold in bulk, are often partially hydrogenated and contain trans fat. To find out if a product has trans fat, check the ingredients. Consumers want healthier choices when eating out and will be asking for trans fat free options. To clear your kitchen of trans fat:
Check the label on all your cooking, frying and baking oils and shortenings. If partially hydrogenated oils are listed, choose non-hydrogenated oil instead.
Choose healthy spreads with no trans fat.
Order prepared foods made without partially hydrogenated vegetable oils
Information for Food Suppliers
Restaurants and consumers will be asking for trans fat-free products. To meet this new increased demand:
Know the trans fat content of your products
Increase and promote your stock of trans fat-free products
Phase out products containing trans fat
Ensure your inventory can meet this new demand.
Information about Trans Fat for Consumers
Many store-bought and restaurant foods may contain trans fats unless they are labeled trans fat free or unless they have no partially hydrogenated vegetable oils on their ingredients label:
Baked goods (cookies, crackers, cakes, pies, muffins, some breads such as hamburger buns).
Margarine (especially stick margarine), vegetable shortening, and commercial fry oils.
Pre-mixed products (cake, pancake, and chocolate drink mix; pizza dough).
Deep-fried and pre-fried foods (doughnuts; french fries; fried chicken, fish sticks, and chicken nuggets; taco shells).
Snack foods (potato, corn, and tortilla chips; candy; packaged or microwave popcorn).
Some brands of these foods do not contain trans fats. Always read food labels and choose foods without trans fats. Or – if partially hydrogenated vegetable oil or shortening is on the label – choose foods that have them near the end of the ingredient list (labels list ingredients from most to least). Starting in 2006, FDA has required that all "Nutrition Facts" labels on food list trans fat content. If partially hydrogenated oil is on the label, the food is not trans fat free.
Avoiding trans fat today is part of heart healthy diet, which also includes decreasing saturated fat, selecting foods rich in fruit and vegetables, whole grains, low and nonfat dairy products, fish and lean meat. For more information about trans fat, logon to http://www.nyc.gov/html/doh/html/cardio/cardio-transfat.shtml. More information is also available from the FDA's website (www.fda.gov/fdac/features/2003/503_fats.html), and the AHA's website (www.americanheart.org/presenter.jhtml?identifier=4662).
Other Health Department bulletins on good heart health, managing cholesterol and blood pressure – and on a variety of other health issues of pressing interest to all New Yorkers – are available online at http://www.nyc.gov/html/doh/html/alerts/alert1.shtml.
###
#083