NEW YORK CITY – June 9, 2005 – From 2002 – the year New York City launched an intensive tobacco control plan – to 2004, the number of New Yorkers who smoke dropped by 188,000, according to data released today by the New York City Department of Health and Mental Hygiene (DOHMH). This 15% decrease follows more than a decade when the smoking rate did not decline in the City. Additionally, from 2002 to 2004, exposure to second-hand smoke in homes dropped by more than one-third.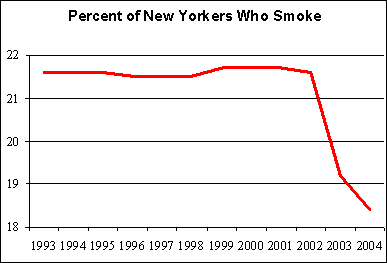 DOHMH Commissioner Dr. Thomas R. Frieden said, "Our tobacco control efforts are working. With nearly 200,000 fewer smokers, at least 60,000 premature deaths will be prevented. Although most New Yorkers who have ever smoked have already quit, there are still more than a million New Yorkers who smoke. Most of them want to quit. We must do even more to stop the epidemic of tobacco-caused illness and death in our City."
Dr. Frieden continued, "These data also show that more and more New Yorkers are aware of the dangers of second-hand smoke and are choosing to keep it out of their homes. Second-hand smoke is deadly; exposure can cause asthma, lung disease, cancer, heart disease, infant death, and many other illnesses."
Data Highlights (Click here for Demographic Characteristics of Smoking in New York City, 2002-2004 [pdf])
From 2002 to 2003, the percent of adult New Yorkers who smoke declined from 21.6% to 19.2%, an 11% decrease. This decline continued in 2004, when 18.4% of New Yorkers reported smoking. This is a 15% decrease from 2002.
One of the groups in which smoking declined most was heavy smokers: the percent of New Yorkers who smoke 11 or more cigarettes per day dropped by 28.8%.
In 2004, two-thirds (66.2%) of smokers tried to quit smoking. Of those who attempted to quit smoking, most did so without the benefit of treatment (e.g. nicotine patches, counseling), which has proven to double the rate of successful quit attempts.

Free Nicotine Patch Program Ends Today; 45,000 Courses Given Away In 40 Days!

More New Yorkers are avoiding second-hand smoke, with 124,000 fewer non-smokers (a 34.5% decline) reporting exposure to second-hand smoke in their homes compared with 2002.
Smoking rates among some groups of New Yorkers are based on a relatively small sample size; therefore, it is sometimes difficult to determine if changes in these groups reflect actual changes, or statistical fluctuations. In these cases, data can still be suggestive of trends among New Yorkers by age, race/ethnicity, gender, and borough of residents from 2002 to 2004:
A large decline in smoking occurred among young women age 18-24 years (-40.5%). Data suggest that smoking is declining among this age group overall (-24.4%) and among New Yorkers 25-44 years (-13.2%), 45-64 years (-15.0%), and 65 and older (-7.0%)
Smoking declined significantly among Hispanic (-21.4%) and white (-18.8%) New Yorkers. The rate among blacks and Asians did not change significantly (-1.9% and -5.2%, respectively).
Smoking decreased significantly (-21.7%) among women. Women in New York City now smoke at a much lower rate than men (15.5% vs. 21.6%).
The smoking rate declined significantly in Queens (-23.1%), and also declined in the Bronx (-18.7%); it remained approximately the same in Brooklyn (-5.1%) and Staten Island (+6.2%). The smoking rate in Staten Island is based on a smaller sample size than the other boroughs, making it more difficult to assess if the smoking rate is remaining stable or if smoking is increasing.
Data Sources
These data are from DOHMH's annual Community Health Survey, an anonymous telephone survey of approximately 10,000 randomly selected adult New Yorkers aged 18 and older in all five boroughs. The survey included questions about demographics, health status, health care access, use of clinical preventive services, health behaviors, health conditions, and home and community environment. Interviews were conducted in a variety of languages. Survey data are representative of the age, race/ethnicity and gender composition of New York City. All data collected are self-reported.
Be Tobacco Free – A Take Care New York Priority
Smoking is the leading cause of preventable death in New York City, killing nearly 10,000 New Yorkers every year. That's why being tobacco-free is a top priority of Take Care New York, the City's health policy. A third of smokers are killed by tobacco, and they die, on average, 14 years earlier than non-smokers. Smoking increases a person's risk of heart disease, stroke, many types of cancer, blindness, and Alzheimer's disease. Smoking also causes many problems in pregnancy, including miscarriage, premature labor, and low birthweight. If you smoke, quitting is the single most important thing you can do for your health.
New York City's Five-Point Tobacco Control Plan
| | |
| --- | --- |
| Taxation: | Discourage smoking and encourage cessation by increasing the price of cigarettes. |
| Legal Action: | Reduce exposure to second-hand smoke; counteract tobacco industry tactics; and promote tobacco control. |
| Cessation: | Help New Yorkers who want to stop smoking succeed by increasing the use of effective quitting techniques. |
| Education: | Disseminate information on the dangers of smoking and of second-hand smoke. |
| Evaluation: | Conducts surveys to evaluate and improve tobacco control efforts. |
For more information on resources for quitting smoking, call 311, or go to the DOHMH website at www.nyc.gov/health.
###
#062