In Parachute NYC, Mobile Treatment Teams provide integrated care that is adapted specifically to a person's needs and allows them to recover in settings that are comfortable and familiar. Trained staff actively engage family and friends to create a network that supports recovery. Crisis Respite Centers offer warm, safe and supportive home like places to rest and recover for up to two weeks when the person needs a type of support that cannot be provided at home. Peers with special training operate a confidential Support Line that offers support for those going through difficult times.

The program employs specially trained peer specialists in tandem with behavioral health professionals to work with a person move towards recovery.

To provide Parachute NYC services, Mobile Treatment Team, Crisis Respite Center and Support Line staff are trained in the Need Adapted Treatment Model (NATM), Intentional Peer Support (IPS), and Peer Health Navigation (PHN).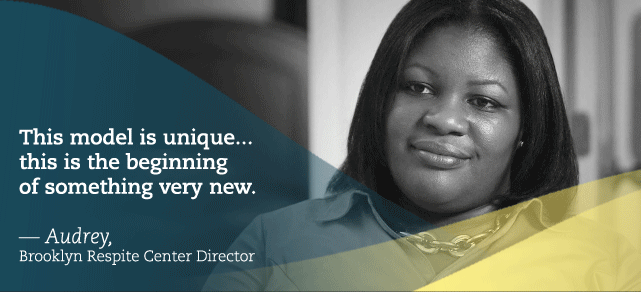 Need Adapted Treatment Model (NATM), the modified need adapted treatment utilized in Parachute NYC, emphasizes rapid early intervention, meeting the needs of each person and family and utilization of the person's own support systems. Treatment is seen as a continuous process involving the integration of different therapeutic methods by highly trained providers. The basic principles of the Parachute NYC model are home based, teamwork, basic psychotherapeutic attitude, person/family-centered, 'needs-specific', and peer participation.

Intentional Peer Support (IPS) is a way of creating powerful, transformative relationships. Reflecting together on shared experiences leads to authentic connections, mutual learning and renewed hope. People see things from new angles, develop greater awareness of personal and relational patterns, and support and challenge each other in life-changing ways.

Peer Health Navigation (PHN) provides peer specialists with knowledge about health and wellness, the community, and available services in order to engage in wellness activities and preventive care. Peer specialists learn how to connect people with medical services, empower others and themselves to establish long-term wellness routines to enhance lifespan and quality of life.