What are Mobile Treatment Teams?
Mobile Treatment Teams have both people with lived experience and clinicians who are specially trained to go to your home or another place of choice to help you to deal with your crisis. If you like the team they will continue to work with you for up to one year.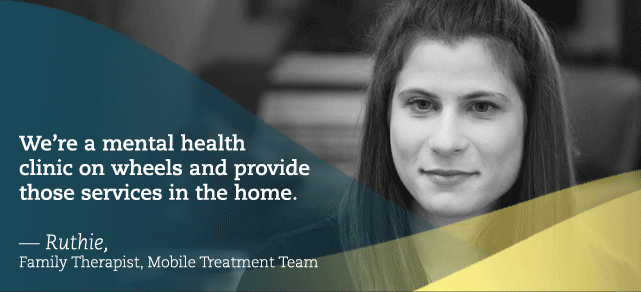 Who is eligible for Parachute NYC services?
Parachute NYC respite services are free and open to all New Yorkers who meet these basic eligibility criteria:
In Manhattan, Bronx and Queens: 18-65 years old, experiencing a psychosis-related crisis
In Brooklyn: 16-30 years old, experiencing a first episode of any serious mental illness. First episode is defined as within approximately one year of onset of symptoms.
Voluntarily seeks or accepts services
Medically stable and doesn't have a medical condition that requires treatment in an acute medical setting
Not street or shelter homeless
Is not at imminent risk to themselves or others such that he/she requires a higher or different level of care
Does not have a diagnosis of dementia, or organic brain disorder
Resident of borough that Mobile Treatment Team is located
How can someone get in touch with a Mobile Treatment Team?
Referrals to Parachute NYC may go centrally to 1-800-LIFENET (1-800-543-3638).


English: 1-800-LIFENET (1-800-543-3638)
Spanish: 1-877-AYUDESE: (1-800-298-3373)
Chinese: 1800-ASIAN LIFENET: (1-800-990-8585)
Other languages 1-800-LIFENET: (1-800-543-3638)
TTY hard of hearing: (212-982-5384)
Online: 800lifenet.org
If you prefer to contact a Mobile Treatment Team directly, please call:
Manhattan: 212-609-7799
Brooklyn: 718-260-7725
Bronx: 718-536-3198
Queens: 718-888-6940
A Mobile Treatment Team will respond within 24 hours.
What happens when the mobile team visits?
They will talk with you and help you figure out the best options. They are the experts but you and the people who care about you are the most important people in the room; therefore instead of deciding for you the team will decide with you. You can have friends, a partner or other family members with you when the team is visiting. They, too, can be part of the team to help you.
Will the Mobile Treatment Team take me to a hospital?
You will decide what is right for you. The Parachute NYC program has Crisis Respite Centers where you can stay if you need to get away from home for a few days.

You can also decide to stay at home and arrange to see a doctor or therapist. The Mobile Treatment Team will help you find the right options.
Can the Mobile Treatment Team visit more than once?
Yes. If you are eligible and interested they will continue to work with you in the community as often as needed for up to one year.
What if someone is in immediate danger of harming themselves or someone else?
In this case, it is best to call 911.