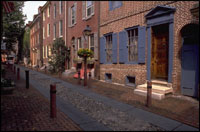 Supportive housing is a combination of affordable housing and support services designed to help individuals and families use housing as a platform for health and recovery following a period of homelessness, hospitalization or incarceration or for youth aging out of foster care.
Supportive housing is affordable, permanent and independent housing that meets the needs of tenants by providing support and that is integrated within a neighborhood and community.
The two primary types of supportive housing are:
Single-site (also referred to as congregate): A designated building where each individual or family has a private living quarters and may share kitchens and/or common recreational rooms or other facilities.



Scattered-site: units in apartment buildings spread throughout a neighborhood or community that are designated for specific populations, accompanied by supportive services
How Does Supportive Housing Work?
Permanent supportive housing provides individuals and families coming from a period of homelessness, hospitalization or incarceration with the following:
Integrated, quality housing
Residential apartment buildings are located in all communities throughout New York City. Supportive housing reflects housing options available to others at similar income levels in the community and meets standards for safety and quality established by local, state, and federal laws and regulations.
Standard lease and rental assistance
Tenants sign a standard lease. Continued tenancy is not subject to any special rules or participation in any particular services. Tenants pay 30 percent of their income toward rent.
Eligibility
A person is eligible for DOHMH supportive housing if they are an individual or family that is chronically homeless, and has a mental illness and/or a substance use disorder.
How to Apply
Supportive Housing applications are generally prepared by a mental health professional. However other individuals, including family members, often assist people with this process.

The Center for Urban Community Services (CUCS) is available to help with the housing application process. Call CUCS at (212) 801-3333 and ask for a Housing Consultant for information about the HRA housing application and referral process.
Services Offered
Supportive housing programming offers tenants with assistance in getting jobs, re-uniting with families, getting treatment and recovering from mental health problems. Participation in services is voluntary and is designed to meet the needs of each resident. Support services include:
Case management
Educational, vocational and other recovery-oriented services
Medication management and counseling
Assistance in gaining access to government benefits
Referrals to medical services, mental health care and treatment for drug and alcohol use
Recommendations for other needed services, such as legal support
Additional Information
Resources