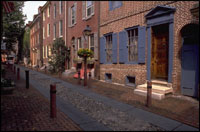 Supportive housing is the proven cost-effective solution to homelessness, as it is less costly to provide permanent housing than to expend resources on emergency care, such as shelters, hospitals and prisons. Studies have shown that an adult who is homeless and mentally ill in New York City uses an average of $40,449 in publicly funded services per year. The cost of one night in supportive housing is just $41 as compared to a night in shelter ($54.42), state prison ($74), city jail ($164.57), a mental hospital ($467), or a hospital ($1,185).

The New York City Health Department currently funds the services and rental subsidies in over 5,000 units of supportive housing across New York City, and another 3,000 units are in development and scheduled to open over the next 10 years.


More Resources
For more information, please call 311.