Synthetic cannabinoids refers to the many herbal mixtures inaccurately marketed as "safe" and legal, that produce marijuana-like effects. It is often labeled "not for human consumption" and sold as "incense," but look more like potpourri. It may contain dried, shredded plant material and chemicals that create the mind-altering effects. People buy it in head shops, corner stores, and on the Internet. It is illegal in New York State to possess, sell, offer to sell, or manufacture synthetic cannabinoids.
Synthetic cannabinoids are referred to by different names including: K2, Spice, synthetic marijuana, or "legal" marijuana. Common brand names include: Geeked up, Smacked, Scooby Snax, Green Giant, Red Giant, Mr. Bad Guy, iBlown, and Trippy.
How Is K2 Used?
Like marijuana, this drug is mainly smoked. Sometimes it is mixed with marijuana or added to hot water for drinking.
What Are the Risks Associated with K2 Use?
Synthetic marijuana produces effects like marijuana, making people feel relaxed and the world seem different. Sometimes the effects are even stronger than from marijuana. Some users have extreme anxiety, confusion, paranoia, and hallucinations. Other reported effects include rapid heart rate, vomiting, seizures and fainting. Synthetic marijuana can also cause kidney failure, raise blood pressure and reduced blood supply to the heart. In a few cases, it has been associated with heart attacks. Regular users may also experience withdrawal and craving.

Because we do not know what is in many products sold as synthetic marijuana, some kinds also may cause very different effects than the user expects.

Is K2 Dangerous?
K2 is marketed under numerous brand names, but all forms of K2 contain 0% marijuana and are 100% dangerous. Since 2015, there have been more than 6,000 synthetic cannabinoid-related emergency department visits in NYC. There have also now been two confirmed K2-related deaths in NYC. Males account for approximately 90% of these emergency room visits.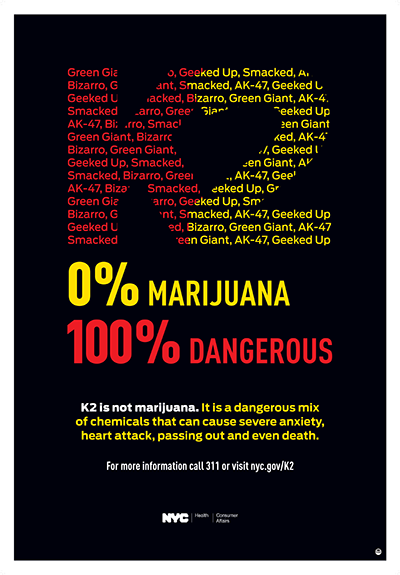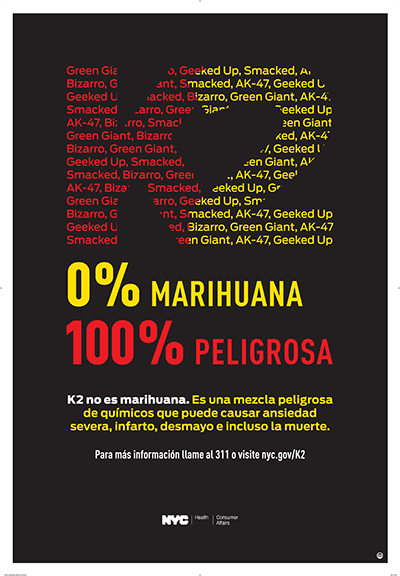 For more information on this K2 initiative, read the press release.
Synthetic Marijuana - Information for Consumers (PDF)
K2: Frequently Asked Questions (PDF)Other languages: [[Español] ] [中文]
---

Information for Retailers

New K2 laws criminalize the manufacture, possession with intent to sell, and sale of synthetic cannabinoids. Selling K2 is a misdemeanor punishable by up to one year in jail, fines of more than $100,000, prosecution under federal law, closure and eviction as a "public nuisance," and suspension or revocation of DCA cigarette retail dealer license. These new laws provide the City with additional enforcement tools to reduce the presence and use of K2 by aggressively cracking down on suppliers.

For more information on the K2 law to criminalize sale and production, read K2 Legislation into Law.
To view the K2 laws (Int. No. 917-A, Int. No. 897, Int. No. 885-A) visit the NYC Council Legislative Research Center.

Businesses committed to refrain from selling K2, may order a window cling for their doors or windows from the Department of Consumer Affairs.

Synthetic Marijuana - Information for Retailers (PDF)
---

Additional Resources
Poison Control
The NYC Poison Control Center is available 24 hours a day, 7 days a week for treatment advice about exposures to poisons. Pharmacists and nurses certified in poison information are there to give advice. All calls are free and confidential. Call any time at 1-800-222-1222 or 212-POISONS (212-764-7667).

► See Related NYC Health Department Publications