Preventing alcohol sales to minors can reduce underage drinking. Learn more.
One in four (27%) New York City (NYC) adolescents (aged 12-20) consumed alcohol in the past 30 days. Sixteen percent binged (consumed more than five drinks) on at least one occasion in the past 30 days.i
Why does underage drinking matter?
People who begin drinking before age 21 increase their risk of developing alcohol use disorders. ii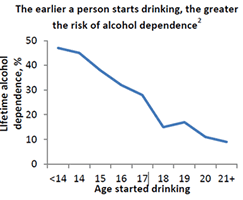 Drinking is associated with risky behaviors like unsafe sexual activity, drinking and driving, and experiencing or engaging in violent behavior such as physical fights.
Each year, alcohol-related injuries (homicide, suicide and unintentional injury) cause 5,000 deaths among people under age 21 in the United States.
In 2011, there were nearly 7,000 alcohol-related emergency department visits among New Yorkers under age 21 (320 per 100,000 New Yorkers under 21). iii

Use our fact sheet to learn more and share information about underage drinking in New York City:
Resources
More Resources
iSAMHSA, Center for Behavioral Health Statistics and Quality, National Survey on Drug Use and Health, 2010-2012.
iiHingson RW, Heeren T, Winter MR. Age at Drinking Onset and Alcohol Dependence: Age at Onset, Duration, and Severity. Arch Pediatr Adolesc Med. 2006;160(7):739-746.
iiiDrug Abuse Warning Network, 2011: Selected Tables of National Estimates of Drug-Related Emergency Department Visits.