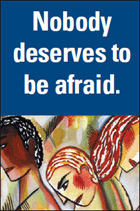 Pregnancy can be an especially vulnerable time of life, and some data suggest women may be at increased risk for intimate partner violence during this period. Between 4% and 8% of women experience IPV during pregnancy, including women from all walks of life in every age, racial and ethnic group. 

Some women remain in abusive relationships during and after pregnancy out of a desire to be a good mother and to protect their children.  The March of Dimes Pregnancy and Newborn Education Center provides information women experiencing abuse during pregnancy.

Resources for adult and teen  victim/survivors of IPV also can help those experience abuse during pregnancy.

Finally, for information on healthy pregnancy, the Health Department provides a variety of materials.

IPV during pregnancy is a serious health concern, since the effects extend beyond the victim. Some physical abusers not only aim their blows at their partner but also at a pregnant woman's belly, placing the fetus in danger. Experiencing IPV during pregnancy has been associated with pregnancy complications, pre-term labor, prematurity, low birthweight infants, neonatal intensive care admissions and even neonatal death.  Among pregnant women, IPV is linked to depression, post-partum depression, eating an unhealthy diet and engaging in unhealthy behaviors, such as alcohol or drug abuse.
Partners may become abusive (or more abusive) during pregnancy because they feel: