Are you a parent, teacher, or community member looking to make
your neighborhood store healthier? Find out how: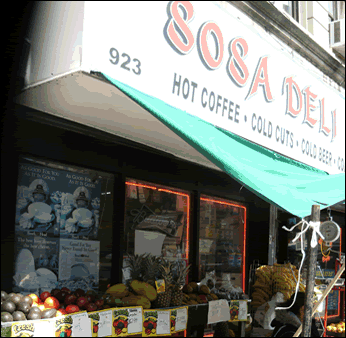 Access to healthy food is critical to good health. However, the selection of healthy choices at some stores - like fresh fruits and vegetables, low sodium and low sugar canned goods, healthy sandwiches and snacks, and healthy drinks may be limited, as studies in Brooklyn (PDF) and Harlem (PDF) demonstrate.

Here are some things you can ask your store to do to increase
healthy choices:
Stock canned fruit "in its own fruit juice" or with "no sugar added"
Stock low-salt (not more than 290mg/serving) or "no salt added" canned vegetables or soup
Stock low-fat milk (1% or fat-free)
Stock whole grain bread (at least 2g fiber/slice and whole grain listed as first ingredient)
Stock healthier snack items (for example, pretzels, baked chips, unsalted nuts, and low-fat yogurt)
Offer a "Healthy Sandwich" (whole grain bread, only 1 slice of cheese, lettuce and tomato ) or meal combo (add a healthy drink – water or low-fat milk – and a piece of fruit)
Display low- and no- calorie drinks at eye level in refrigerators
Adopt-a-Shop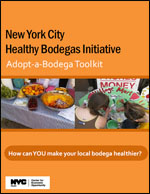 The Health Department's Shop Healthy NYC Program can help you work with local stores to increase healthy offerings, like fresh fruits and vegetables, whole grain bread, low-fat milk, and low-salt and no-sugar-added canned goods. The Adopt-a-Shop program provides individuals and community organizations with the tools and support necessary to build relationships with stores and show community interest and demand for healthy foods.

Want to adopt a shop in your community? Check out our  toolkit (PDF) ) for guidance and ideas or register for a workshop. For more information and a list of workshop dates, email us at shophealthy@health.nyc.gov.

Deliver the cards below to your local store to show that there is demand for healthier items. You can order more postcards by calling 311 (keyword: postcard).

 
Program Background
Since January 2005, the Health Department has worked with more than 1,000 bodegas and over 50 supermarkets in high-need areas of the city to increase access to and promote healthy foods, such as fresh fruits and vegetables, whole grain bread, low-fat milk and dairy products, and low-salt and no-sugar-added canned goods. Shop Healthy NYC also supports Green Carts and farmers' markets by providing free Shop Healthy Here marketing materials and by directing customers their way.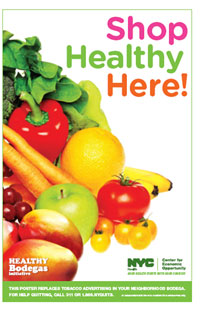 Specifically, stores are given marketing materials and supplies to make it easy to promote and display their healthy items. They are encouraged to apply for permits allowing them to sell fresh produce on the sidewalk in front of the store to increase the space afforded to fresh produce, and to include healthier foods in their deli and grab-and-go sections. Shop Healthy NYC also helps stores promote and advertise their healthier items to customers through in-store displays, improved storage and shelving, promotional materials, and window advertisements. Shop Healthy works with local distribution and supply companies to stock healthier items and promote them to the stores as well.
In addition to working with stores to increase their supply of healthier foods, Shop Healthy NYC recognizes the importance of increasing customer demand for these healthier foods. To this end, the program provides nutrition education and outreach in target communities. Residents are taught how and why to shop healthier and they are encouraged to ask for healthier items from their local stores, both as individuals and as part of their larger communities.
New York City Healthy Bodegas Initiative - 2010 Report (PDF)
Last Updated: June 6, 2012