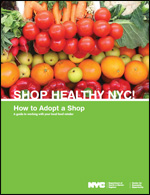 Shop Healthy NYC works with communities – including residents, food retailers, and food suppliers and distributors – to increase access to healthy foods. Shop Healthy NYC's main focus is on those neighborhoods with high rates of obesity and limited access to nutritious foods.


Three New Shop Healthy NYC Neighborhoods
In June 2013, Shop Healthy NYC expanded its work to three new South Bronx neighborhoods – Hunts Point, Mott Haven and Longwood. Read the press release. If you live, work or go to school in the South Bronx and want to participate in this neighborhood effort, contact us at shophealthy@health.nyc.gov.

Shop Healthy NYC has developed a guide for community residents and organizations interested in working with local food retailers to increase healthy offerings, like fresh fruits and vegetables, 100% whole wheat bread and low-salt canned goods. This guide provides tips for working with retailers to make healthful changes and for increasing community demand for these healthy offerings.


► Download the How to Adopt a Shop Guide
How to Adopt a Shop: A Guide to Working with your Local Food Retailer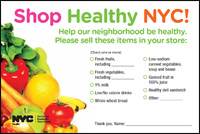 Deliver these postcards to your local store to show that there is demand for healthier items. You can order more postcards by calling 311 (keyword: Shop Healthy postcard).



► Download the Shop Healthy NYC Postcard (PDF)
Other languages: [Español]





Does your group have the staff and resources for a neighborhood-wide food retail program?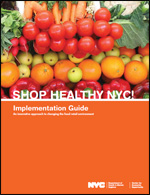 If your group is interested in transforming a neighborhood's food environment by working not only with food retailers, but with food suppliers, distributors and other community groups, Shop Healthy NYC has created a guide to assist you.



► Download the Shop Healthy Implementation Guide:
An innovative approach to changing the food retail environment


For more information about Shop Healthy NYC,
contact us at shophealthy@health.nyc.gov.






 

Last Updated: June 25, 2013