Get Out and Enjoy New York City!
We now have more than 700 miles of on-street bike lanes and park space for bicycling.
We have hundreds of landmarks to visit (see Walking NYC Landmarks).
We have thousands of miles of sidewalks, walkways, and green spaces.
We have botanical gardens, and dozens of parks with places to walk, run, bike and play sports.
► Find out more about how to Make NYC Your Gym
► Find out more about Cycling in New York City
BeFitNYC
BeFitNYC lets you search for free fitness activities in every borough. Learn to Swim, Zumba, Road Runners and more— BeFitNYC has it all!
Make NYC Your Gym Infographic
(Click on the infographic for a larger version.)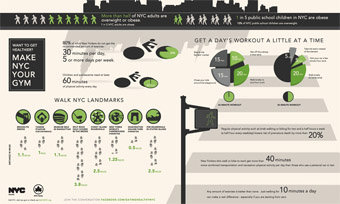 ► See the Make NYC Your Gym Advertising Campaign.