Just Do Ten

Just getting up and moving for 30 minutes every day—even in short bouts—can make a difference. Taking a 10-minute walk during lunch, climbing the subway stairs, running out to do an errand—it all helps burn calories and enhance your health. These small steps also help lower your chances of diabetes, heart disease, hypertension, arthritis and other chronic health conditions


Just Have Fun
New York City is more bike-friendly than ever. On-street bike lanes have almost doubled, from 220 miles to 420 miles since 2006, and more paths are now physically separated from traffic to make your outings safer. Where are these bike lanes? See NYC DOT's NYC Cycling Map

If you don't want to bike alone, there are NYC groups with organized rides such as Time's Up.
Just Be Safe
Wear a helmet
Obey traffic signs and signals
Be visible: use front and rear lights and light-colored clothing at night
Ride in same direction as traffic
Use bike lanes whenever possible
Use extra caution when

riding near buses and trucks
going through intersections or making turns
riding near parked cars with opening doors

Yield to people walking
Never ride on sidewalks
Never wear headphones
Cycling Resources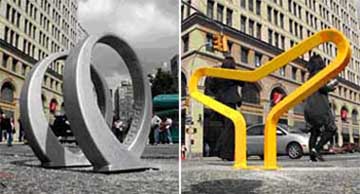 Extra Credit Quiz
What do you think the pictures (above) are?
modern art sculpture
industrial waste
bicycle racks by David Byrne
► See the answer.