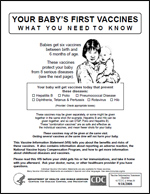 Under the National Childhood Vaccine Injury Act, all health care providers are required to use Vaccine Information Statements (VIS) to inform parents, guardians, legal representatives, and adult patients about the benefits and risks of vaccines prior to vaccination.

A copy of the relevant VIS, should be given prior to the administration of each dose of the vaccine to:
the parent or legal representative of any child to whom the provider intends to administer such vaccine, and
any adult to whom the provider intends to administer such vaccine.
Health care providers should make a notation in each patient's permanent medical record at the time vaccine information materials are provided indicating the edition (date of publication) of the materials distributed and the date these materials were provided.

In addition, the health care provider must record in the patient's permanent medical record: the name, address and title of the individual who administers the vaccine, the date of administration, and the vaccine manufacturer and lot number of the vaccine used.
Where to Get Vaccine Information Statements
Vaccine Information Statements are developed by the Centers for Disease Control and Prevention (CDC). They are available at CDC website

The Immunization Action Coalition has Vaccine Information Statements in different languages.

For more information on where your child can be vaccinated, call 311.