► Low-to No-Cost Confidential Clinics - General Information
Health Department immunization clinics permanently closed in Corona, Queens and the Tremont area of the Bronx.

For immunization services near Corona:
Children can get walk-in immunization services at the New York City Health and Hospitals Corporation Child Health Clinic, located at 34-33 Junction Blvd, 3rd Fl., Jackson Heights, NY 11372. The clinic is open Wednesdays and Fridays, 8:00 a.m. to 4:30 p.m. Pediatric services are also available to HHC patients five days a week. Call 718-334-6100 for more information.

Adults can get comprehensive health care services at Elmhurst Hospital Center, at 79-01 Broadway in Elmhurst, Queens. Call 718-334-4000 for more information.

For immunization services in the Bronx:
Children and adults can access immunization services at NYC H+H/Gunhill located at 1012 E. Gunhill Road Bronx, NY 10469.

Hours of immunizations: Monday through Friday, 8:30 a.m. to 2 p.m.

Children MUST be accompanied by their parent or legal guardian
Required documents:
Adults 18 or older – Photo ID, Immunization record, Insurance card (if insured)
Children ages 5 - 17 - Parents photo ID OR guardianship papers (for legal guardians), Original birth certificate, Immunization card, Insurance card (if insured)
Children under 5 MUST make an appointment for a physical exam visit with immunizations
Payment Information - This is not a free clinic:
If you do not have health insurance, you will meet with a financial counselor who will help you with your insurance needs. Patients who do not qualify for insurance will be fee-scaled.
We accept Medicaid with Metroplus, Healthfirst and HIP (the primary care doctor on your plan has to be a doctor in this practice). We accept a variety of private insurances. Feel free to call 718-918-8850 before coming in to confirm that your insurance would be accepted and to find out if you have a co-payment.
Most routine vaccines are available for both adults and children, however polio, varicella and meningitis vaccines are only available for children aged 18 and younger.
Visit nyc.gov/hhc to find other service sites near Corona and Tremont.
Call 311 to request copies of your immunization records.
Fort Greene Health Center
295 Flatbush Ave. Extension - 5th Fl., Brooklyn, NY, 11201
(corner of Willoughby St. & Flatbush Ave. Ext., near the Fulton Mall and Long Island University)

For adults and children (4 years of age and over)
Open Mon. through Fri., 8:30 a.m. – 2:30 p.m.
Please note: clinic will be closed on March 10th, 2016 and early closure on, March 16th, 2016 at 12noon
No appointments necessary. People are seen on a first-come, first-serve basis.
Directions: A, C, & F to Jay St., or 2,3,4 & 5 to Nevins St. or R, Q, & B to DeKalb Ave.
Please bring your vaccination record and insurance information.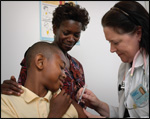 The Fort Greene walk-in immunization clinic provides immunizations recommended for children over 4 years of age, teens and adults, including:
Hepatitis B vaccine for children and high-risk adults
Hepatitis A vaccine for children and high-risk adults
Diphtheria, tetanus & pertussis combination vaccines, including
Tdap and DTaP
Tetanus (Td) vaccine
Measles, Mumps & Rubella (MMR) combination vaccine
Pneumococcal (PPSV23) vaccine
Pneumococcal (PCV13) vaccine for children
Human papillomavirus (HPV) vaccine (for males and females ages nine through 18 years)
Meningococcal vaccine (for children ages 11 through 18 years)
Influenza vaccine
Haemophilus influenzae (Hib) vaccine (for children four [4] years of age)
Polio vaccine (for patients 4 through 17 years)
Varicella vaccine (for patients 4 through 18 years)
HIPAA - Notice of Privacy (PDF)
Other languages: [En Español] [中文] [정의] [عربي] [বাংলা] [Tiẽng Viêt ] [Русский] [हिन्दी] [Français ] [יידיש] [Creole] [اُردو]
Health Insurance and Billing Practices
In order to comply with Medicaid rules, the Health Department's immunization clinic must request insurance or payment for services given to adults (age 19 and over). If you have health insurance, the Health Department will bill your insurance. You will not be charged a copayment. If you are over 19 years of age and you do not have health insurance or do not want your insurance billed, the Health Department will ask for a sliding scale fee based on family size and annual income. Clinic staff will not ask for proof of family size and income, and services will be provided regardless of ability to pay.
Adults who are currently enrolled in a post-secondary educational program and who receive the MMR vaccine as part of school requirements do not have to pay a fee. See links below for more details.
Parents and Children
Tuberculosis
Tuberculosis tests are not provided at the immunization clinic. Learn more about evaluation and treatment for tuberculosis at Health Department Chest Centers. Note that tuberculosis tests are no longer required for school entry.
Sexually Transmitted Diseases (STDs) and HIV
HIV and other STD tests are not provided at the Fort Greene immunization clinic. Learn more about confidential Health Department STD clinics.
Travel Vaccines
Travel immunizations, including yellow fever and typhoid vaccines, and malaria prophylaxis are not provided at the Fort Greene immunization clinic. For travel clinic locations, go to the Centers for Disease Control web site at Travelers' Health.
Shingles
Zostavax® is a vaccine to prevent shingles and is recommended for people 60 years of age and older. This vaccine is not available at the Fort Greene immunization clinic. Pharmacists who are licensed to vaccinate in New York State can administer the shingles vaccine with a prescription from your health care provider. For pharmacy locations that offer this vaccine, visit the Merck Adult Vaccination Locator. You can also check with your health care provider or with your local pharmacy to see if they provide this vaccine.

Holiday Schedule

Monday, January, 18th, 2016 (Martin Luther King Day)
Monday, February 21st, 2016 (Presidents' Day)

Call 311 for more information about clinic services or if you would like to request your child's or your own immunization record (if born and/or vaccinated in New York City after 1995).