What counseling must I give patients before administering the HIV test?
Before being asked to consent to HIV testing, patients must receive the points of information about HIV required by the NYS Public Health Law, Article 27F. This information can be given to patients orally, in writing, electronically or can be delivered in a group set-up (i.e. a poster in a waiting room):
By law, health care providers must offer an HIV test to all patients aged 13-64.
Testing is voluntary and all HIV test results are confidential (private).
Anonymous HIV testing (without giving your name) is available at certain public testing sites.
You may withdraw your consent at any time-either verbally or in writing.
It is illegal to discriminate against anyone because of his or her HIV status.
If you test positive, you can get treatment for HIV/AIDS to help you stay healthy and live longer.
HIV, the virus that causes AIDS, can be spread through unprotected sex, sharing needles, childbirth or by breastfeeding.
People living with HIV/AIDS can use safe practices to protect others from becoming infected.
► See What You Need to Know About an HIV Test (PDF):
A brochure you can give your patients that
covers all required pre-test information.
How do I obtain patient consent for HIV testing?
Providers can obtain patient consent for HIV testing through any of the
following ways:

Documented oral consent
Patients can give oral consent for a rapid HIV test if the test procedure results in one hour or less, except in correctional facilities.
Providers must note the conversation in the patient's medical record, including the date and name of the person ordering the test.
In non-medical settings, note the conversation in the program's testing documentation for each client.
Providers can document refusal as a means of documenting counseling without testing for billing or for their records.
General medical consent
Patients can consent to an HIV test by signing a general consent for medical care.
The general medical consent form must give the patient an opportunity to refuse HIV testing (that is, an opportunity to opt out of being tested for HIV).
For examples of acceptable language and model forms, see below or visit New York State Department of Health. Providers and agencies can develop their own consent forms without approval from New York State as long as the criteria above are met.

Please click on the image to view larger version: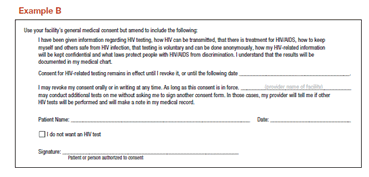 New York State HIV Testing Consent Forms (DOH-2556)
Providers or agencies unable to use documented oral or general medical consent can use HIV testing consent forms created by The New York State Health Department in multiple languages. For copies of these forms, visit New York State Department of Health.
Last Updated 2/16/12