Halloween is a favorite time of year for children and adults all around New York City. Here are tips for celebrating in a safe and healthy way.
Costumes
Make your child visible - Choose a brightly-colored treat bag and costume, and place reflective strips on the costume. These actions help drivers see your child better in the dark.
Costumes and masks should fit well to avoid blocked vision or tripping. Costume accessories such as swords, canes and jewelry should not be too long or sharp
Decorative contact lenses can cause serious eye injury. Check with your doctor before wearing them.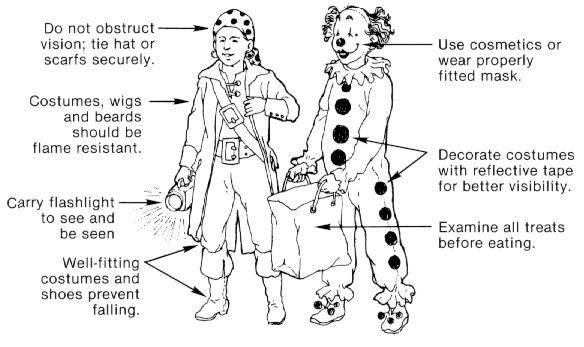 Trick-or-Treating
Supervise your child when trick-or-treating or make sure they're with a trusted adult. Don't let your child enter anyone's home alone.
Tell your child to look both ways before crossing the street and cross only at street corners.
Carefully check treats for tampering, choking hazards and possible allergies. Do not let your child eat any open or unwrapped treats.
Limit the amount of treats your child eats.
Expecting Trick-or-Treaters
Give out healthy treats such as dried fruit packets or whole wheat mini pretzels.
Remove clutter and wet leaves from sidewalks and steps to avoid slips and falls.
Pumpkin Carving
Only adults should carve the pumpkin. Supervise children closely around carving tools.
Use a tea light or glow stick in the jack o'lantern instead of a burning candle.
Related Links:
US Centers for Disease Control and Prevention Halloween Health and Safety Tips
NYC Police Department Safety Tips for Halloween