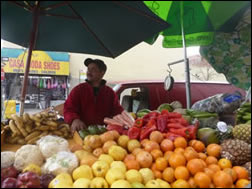 What are Green Carts?
Green Carts are mobile food carts that offer fresh produce in New York City neighborhoods with limited access to healthy foods. A Green Cart only sells fresh fruits and vegetables.


What kinds of produce can you find on a Green Cart?
Vendors sell everything from tropical fruits, such as mangoes, papayas and quenepas, to more common items, like green beans, carrots, radishes and apples. Green Cart vendors often cater to the community they are serving. Can't find what you are looking for at your local Green Cart? Ask the vendor to stock what you need!
Where are Green Carts located?
You can click on the map to the right to see neighborhoods which have Green Carts. Green Carts operate in areas which have limited access to fresh fruits and vegetables
Are you a Green Cart vendor who would like to accept EBT?
Email greencarts@health.nyc.gov to inquire about receiving a free wireless EBT terminal for your Green Cart!