Health care providers play a key role in preventing falls by assessing a patient's risk for falling.

The CDC's STEADI (Stopping Elderly Accidents, Deaths & Injuries) Tool Kit for Health Care Providers has falls prevention information and tools for health care providers, including screening tools, patient education materials, case studies, instructional videos, a webinar, and more.

The following screening and assessment tools can be used by many types of health care providers. If you are a social service provider, encourage your client to ask their health care provider about falls screening and assessment.

 
Falls screening questions for older adults (≥65):
Have you fallen in the last year? How
many times?



Do you have difficulty with walking or balance?
For patients with no falls and no self-reported or observed trouble with balance/walking – Reassess periodically and give the patient educational materials, such as How to Prevent Falls and Check for Safety .



For patients who have fallen one time or who report trouble with balance or walking, perform the Timed Get Up and Go Test (see below). This quick and easy test can be performed in many settings and will determine if a comprehensive assessment is necessary.



For patients who have fallen twice or more or patients in which you observe trouble with balance or walking, perform a Comprehensive Assessment which can be done over several office visits.
Click on the image below for a larger version.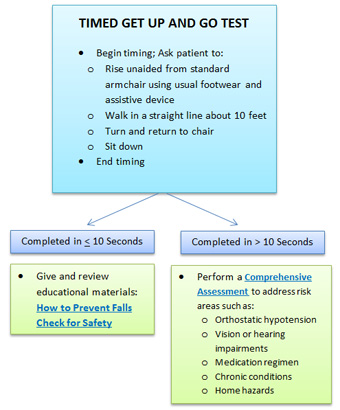 Comprehensive Assessment
Comprehensive assessments can be performed over time. For more information, refer to these detailed guides:

 
Environmental Assessment
Be sure to include environmental assessments as a part of a broader falls risk assessment. Advise patients and their families to use Check for Safety , available in English, Español , 中文 (Chinese). At least half of falls happen in the home and many home hazards, such as loose throw rugs or poor lighting, are easy to fix.

Service organizations that perform home visits can refer to the GEM Environmental Assessment to help identify and find possible solutions to environmental hazards in the home that are specific to older adult clients. Developed by Weill Cornell Medical College's Program for Environmental Geriatrics, this tool can be used as a basic resource for certain areas of the home or as a full assessment.


Tools You Can Use
Last Updated: February 9, 2012