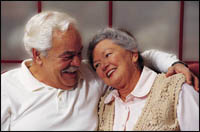 Falls can cause serious injury, but most can be prevented and everyone can help. Older adults can learn about how to reduce the risk of falls. Health and social service providers can assess clients for risk of falls and support prevention efforts.


Did You Know:
About 1 in 3 older adults fall every year.

Falls are a leading cause of injuries, including broken hips and head injuries. These injuries can lead to hospitalization and nursing home admissions, disability, and loss of independence.

Learn more about falls among older adults in New York City through the Epi Data Brief and supplemental tables.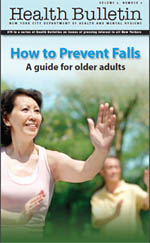 Prevent Falls
Learn more about how to reduce your risk of falling. Then, take action!

For an overview, read:

How to Prevent Falls: A Guide for Older Adults


Other languages:

[Español][中文]B Русский



To get copies of the Health Bulletin on Preventing Falls, or any of our other publications call 311.







 
NYC Falls Prevention Coalition
As part of the Age-Friendly New York City initiative, the NYC Department for the Aging (DFTA) and the NYC Department of Health and Mental Hygiene (DOHMH) have brought together key organizations to bring attention and solutions to the issue of falls among older adults. Learn more about the NYC Falls Prevention Coalition.

 

Last Updated: May 25, 2012