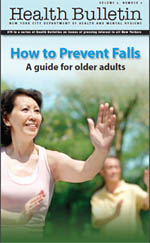 Falls can cause serious injury, but most can be prevented and everyone can help. Older adults can learn about how to reduce the risk of falls. Health and social service providers can assess clients for risk of falls and support prevention efforts.
Information for Older Adults
How to Prevent Falls: A Guide for Older Adults
Other languages: [Español][中文]
Information for Caregivers
To get copies of the Health Bulletin on Preventing Falls,
or any of our other publications, call 311.
Last Updated: February 7, 2013