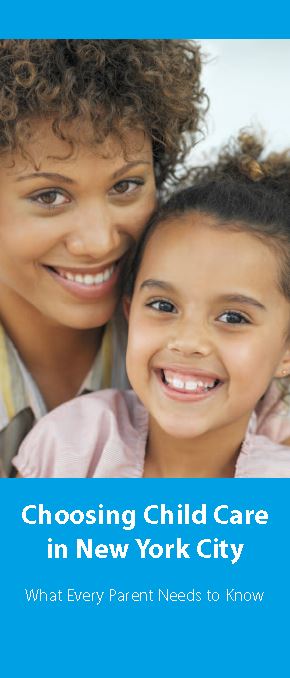 Good child care encourages children to play and learn in a stimulating and nurturing environment. There are resources available to help you find care that fits your families' needs. To keep children safe and healthy while they are in a provider's care, the government licenses and regulates child care facilities and inspects them regularly. The Department does not endorse any organization to which it issues a permit but it inspects them to ensure compliance with State and local regulations.



► See Choosing Child Care in New York City
[Español][中文][정의][Русский][Creole] [عربي]

Finding a Child Care Center
Our directory lists the child care centers that have been issued permits by the New York City Department of Health and Mental Hygiene. The directory is provided to help you locate a child care center in your area and review its history of inspections. We are dedicated to the protection of the health and safety of all children in New York City and recommend that you research the child care center you are interested in by reviewing its inspection history and visiting it to see if it will meet your child's needs. The directory is updated weekly.
For assistance in identifying or selecting a child care service, contact the New York City Child Care Resource and Referral (CCR&R) Consortium at (888) 469-5999. Their services include resources and referrals to help parents access quality child care. The consortium is funded by the New York State Office of Children and Family Services and is composed of five culturally-diverse child care resource and referral agencies from the NYC area:

Center for Children's Initiatives (CCI)
322 Eighth Avenue, 4th Floor
New York, NY 10001
212.929.7604
212.929.5785 (Fax)
www.centerforchildrensinitiatives.org

Child Development Support Corporation
352-358 Classon Ave, 2nd Fl
Brooklyn, NY 11238
718.230.0056
718.398.6182 (Fax)
www.cdscnyc.org

Chinese-American Planning Council, Inc.
165 Eldridge Street
New York, NY 10002
212.206.1090
212.206.8093 (Fax)
www.childcarecpc.org

Committee for Hispanic Children and Families, Inc.
110 William Street, Suite 1802
New York, NY 10038
212.206.1090
212.206.8093 (Fax)
www.chcfinc.org

Day Care Council of New York, Inc.
2082 Lexington Avenue, Suite 204
New York, NY 10035
212.206.7818
212.206.7836 (Fax)
www.dccnyinc.org

For more information on Child Care services, call 311.