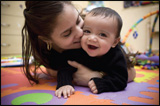 New York City Project LAUNCH (Linking Actions for Unmet Needs in Children's Health) serves children and families in two of New York City's most high need communities—East Harlem in Manhattan and Hunts Point in the South Bronx.

The Health Department, in collaboration with community partners, aims to promote the social and emotional development of children from birth through age eight years and reshape the early childhood system by implementing strategies, engaging families, promoting awareness of children's mental health, conducting workforce development, facilitating community collaboration, and evaluating the results.
Resources for Parents
Get health information, developmental screenings and referrals from your pediatrician or family doctor.
Call 311 for a doctor near you.

For mental health referrals and help for you and your child, call 311 or 1-800-LIFENET (800-543-3638).

Email NYCProjectLaunch@health.nyc.gov for more information about the NYC Project LAUNCH program.
Publications on Social and Emotional Development
Community Resource Guides
Components of Project LAUNCH
Social Emotional Screening: The team conducts social emotional screening in multiple settings, including early care and education classrooms and in pediatric clinics.



Integrating Behavioral Health into Primary Care: A mental health clinician meets with families if a child has a positive social emotional screen or if the family or pediatrician has a concern to provide an evaluation, short term treatment and referrals.



Mental Health Consultation in Early Care and Education: Programmatic and child-specific mental health consultation and teacher training using the Incredible Years model is provided to early care and education staff.



Home Visiting: A mental health consultant provides reflective supervision and didactic training to two teams of Nurse Family Partnership home visiting nurses.



Family Strengthening: Family advocates conduct parenting classes in English and Spanish in the community using the Strengthening Multiethnic Families and Communities model and the Circle of Security ® Parenting Series model. In addition, parents in the communities lead Community Cafes.



Council on Young Child Wellness: A diverse council with representatives from city and state agencies, community based organizations, and family members from East Harlem and Hunts Point guide the strategic planning, implementation and sustainability of the NYC Project LAUNCH.



NYC Project LAUNCH is funded through a multi-year grant by the U.S. Substance Abuse and Mental Health Services Administration, an agency of the U.S. Department of Health and Human Services, to the Fund for Public Health in New York.